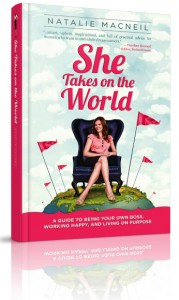 Today's Author Q&A is with Natalie MacNeil, an EMMY Award-winning media entrepreneur and the Author of She Takes on the World: A Guide to Being Your Own Boss, Working Happy, and Living on Purpose. (Buy today and receive $500 in bonus gifts from successful women.)
MacNeil talks about her experience writing and offers tips for business and writing success.
Why inspired you to first start writing?
Four years ago I thought my experience of building my own business from the ground up, while traveling the world, could inspire others to pursue their dreams. After writing the blog for awhile I decided a book was the next step. I have a real passion for helping women build businesses around what they are passionate about.
Why did you launch SheTakesOnTheWorld.com?
I was inspired to create She Takes on the World because I felt there were a lack of female voices in business blogging. I had a hunch that there more women out there who were hungry for practical advice and inspiration for building a business and my hunch was right.
What was your favorite part of writing your book? The greatest challenge?
My favorite part of writing was organizing all the notes, lessons learned, stories, and journals I've kept.
The greatest challenge for me was the editing process. It required a lot of patience. I learned a lot from working with a world-class editor though. It was amazing to see everything come together in the end!
How do you balance all your different projects?
I strive for focus, not balance. I set five major goals for the year with five milestones for each one. I look at these almost every day which keeps me super-focused. Balance is not something I strive for because I know too many women who stress themselves out trying to maintain a perfect equilibrium.
What is your best piece of advice for multitaskers?
Make sure you're actually being productive and completing tasks. Multitasking is only bad when you jump from one task to another without ever finishing anything. I consider myself to be a fantastic multitasker (which most multitaskers probably think ha ha) but I must admit that I've been more productive since focusing each hour of my day on one thing.
Advice for non-fiction writers?
Build an audience for your book before writing it. Make sure you have a blog on the topic you want to write about, and build credibility in your niche by sharing relevant content on Facebook and Twitter. Publishers want to see that you've established yourself as an expert in your field and have an audience that would buy your book.
What do you know now that you wish you knew when you first started writing?
I wish I realized earlier in the writing process how beneficial it is to go on "writing trips." I wrote nearly half my book on a one week trip to Sacred Valley in Peru. Changing my environment helped to clear my head and writing was the only thing I had to focus on. During the final edit I took a three day trip to a secluded cottage up North in Canada and I did more work in those three days than I had in the previous three weeks! Your environment is so important when you're writing.
Tags:
Author Q&A
Business
Entrepreneurs
Natalie MacNeil
Non-fiction
She Takes on the World
Women
Write On! Online