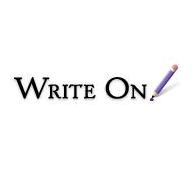 Join us for the September Write On!/Guided Goals Meeting on Wednesday, September 7, from 1 – 3pm at Peet's Coffee in Westwood to hang out and catch up.
Remember, post your goals on Write On Online or Facebook by August 31 to be entered in this month's drawing to win a book from Michael Wiese Productions. And send newsletter items to deckerling@gmail.com by September 5 or submit here. More information in this week's Write On Wednesday.
* * *
Do you have a new book or an upcoming book release? Want to be featured on Write On Online? For consideration submit your info here.
August 31: Last day to post your Goals on Write On Online or Facebook to be entered in this month's drawing to win a book from Michael Wiese Productions.
September 5: Deadline to send in a 2-3 line news item or event for the August Newsletter to deckerling@gmail.com. Or submit here.
September 7: September LA Hangout from 1 – 3pm at Peet's, 1854 Westwood Blvd., Los Angeles. RSVP on Facebook.
September 15 – 17: Make plans to see our Carolyn Howard-Johnson present (twice!) at Judith Briles' "Dare Greatly" in Denver. Check out the Early Bird Registration and start making plans now! Reach Dr. Judith Briles at judith@briles.com.  Tell her Carolyn sent you.
October 5: October LA Hangout from 1 – 3pm at Peet's in Westwood. RSVP on Facebook.
Save the Date: November 14: The 2016 edition of #140conf will take in Los Angeles on November 14th at The Crest in Westwood. I will be co-hosting the event with founder Jeff Pulver. The format of our conference are 10 minute talks mixed with a few short panel discussions, followed by networking. The #140conf events provide a platform to listen, connect, share, and engage with each other, while collectively exploring the effects of the real-time internet on business. Apply to speak. Or get early bird tickets.
Need book covers, illustrations, or other book design elements? Contact michele@micheledesigns.com, graphic designer and illustrator.
Ongoing: Female Authors wanted for interviews on the #SheWroteABook podcast with Lena Anani. If interested, please inquire at http://SheWroteABook.com/Guest and please allow up to 24 hours for a response.
* * *
In October, I launched the Guided Goals Podcast on Write On's companion site GuidedGoals.com. The podcast is a series of expert interviews, designed to help people pursue their passion projects. Each episode wraps with action items (recommended goals), so listeners can take what they heard, and move forward right away. Watch on YouTube, listen, and subscribe on iTunes, or listen on Stitcher. I will be launching the Guided Goals' newsletter soon. Please sign up and receive "5 Ways to Improve Your Productivity."
* * *
Do your kids love to write? Want to encourage them to hone and expand their writing skills? Check out Purple Pencil Adventures: Writing Prompts for Kids of All Ages.  Although it's geared towards kids, there are plenty of prompts adults can use to exercise those writing muscles! Write on!
* * *
Writers, please email me if you have a 2-3 line news item or event and/or if you are are interested in contributing a Write On! Review, writing an Expert Column, or participating in an Author Q&A. Write On!
Tags:
#140conf
Goals
Guided Goals
Los Angeles
Write On! Online
Write On! Wednesday