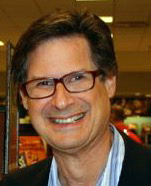 Emmy award-winning writer/director/producer/major league baseball announcer Ken Levine's new play, Going… Going… GONE!, previews in Hollywood next week.
Ken's rich career spans television writing (M*A*S*H), production (Cheers), creative consulting (Frasier, Wings) and sportscasting (Dodger Talk). For the past two decades, he has done play-by-play for the Baltimore Orioles, Seattle Mariners and San Diego Padres. Ken has co-created three TV series, including Almost Perfect, won two Writers Guild awards, and garnered recognition from Peabody and Humanitas. Ken has written other plays, including Upfronts & Personal and A or B?, as well as a musical, The '60s Project. Ken's blog, By Ken Levine, was named one of the top 25 best blogs in the world by TIME Magazine. He has been published on The Huffington Post and in The Los Angeles Times, London Times, Toronto Star, Hollywood Reporter, Variety and ESPN.com.
Going… Going… GONE! is set in the press box of a Los Angeles baseball stadium, and centers around four sports journalists whose lives are changed during one baseball game. According to Levine, the characters, based loosely on people he knows, are deeply entrenched in a world driven by milestones. The show's theme is the universal, human desire to leave a lasting legacy.
Starring Annie Abrams, David Babich, Troy Metcalf, and Dennis Pearson, Going… Going… GONE! opens at Hudson Guild Theatre in Hollywood for previews on Sept. 29-30, then runs from Oct. 1 – Nov.6. Get tickets and more information here.
What inspired you write Going… Going… GONE!?
I wrote this play backwards. Usually, I'll come up with an idea for a story or a relationship, and develop the play from there. And along the way, a theme will emerge. In this case, I had the theme first. I wanted to write a play about our need to be remembered. There are so many fascinating aspects to it. How important is it to be remembered? What are you remembered for? What's a greater priority–building your legacy, or just living your life? These are all questions you begin to ask when you get to be my age… uh, "40." From there, I looked for an arena that best serviced the theme. That led me to baseball. The beauty of the sport is its celebration of history and passing down memories from generation to generation. It also helped that I was in baseball for almost 30 years.
What was your process for writing it? Getting it produced?
I had a rough idea of how I wanted to plot the play. Then I went through my "What if?" phase. For a month, I just let my mind riff and jotted down ideas for scenes, or moments, or characters. Eventually, I whittle them down, keeping maybe 20%. Then I work on character profiles and assemble an outline. That usually takes another month. From there, I begin writing it.
A first draft takes me about a month. Then, I tear it apart, rewrite, give it to some trusted writer friends who will tell me the truth even if I hate them for it, and rewrite it again. At that point I try to schedule some readings. With Going… Going… GONE!, I was fortunate to be part of EST's Winterfest staged reading festival in March. It played great, got tons of big laughs, and that's when I knew I had something. I met with Theatre Planners, and we put together this production.
What was your favorite part of working on Going… Going… GONE!? The greatest challenge?
I love writing dialogue and I love these characters, so that part of the process was wonderful. My challenge was to really do justice to a serious theme while making the play as funny as humanly possible. For that to work, the humor has to come out of the characters, not from the "jokes." Although the events in the play are purely fictional, they all stem from real incidents and actual, insane conversations.
And how did you determine which characteristics of others to include and eliminate?
The characters are all modeled after various journalists I mingled with in the press box. Hosting Dodger Talk for eight years, I sat with these guys over hundreds of summer evenings. And believe me, many nights they were way more entertaining than the game on the field. In many ways I liken them to a cross between a Rand Institute Think Tank and a bunch of idiots you'd meet in a bar. What I try to do with characters is give them all different points of view and let them loose. It's like I'm a hockey referee. I drop the puck and let the boys play.
What inspired your shift to writing plays? In what ways is it similar to/different than writing in other mediums?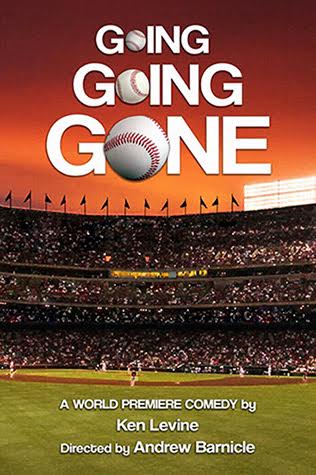 Movies take forever to get made. IF they get made. And they're expensive. I have some screenplays I'm extremely proud of that never sold. And I don't have the $10 million it would cost to make one. Nor am I good at begging German dentists for money to finance my films. So they're dead. No one will ever see them. No one will ever read them.
With a play, as long as I keep it modest (even if it means I can't land a helicopter on stage), I can have a production. If I take the time and effort to write something, I know it has the chance to be realized. And that's very empowering. Also, for someone who writes comedy, there is no greater high than hearing a live audience laugh. Oh, and no one can change my words. In movies, directors rule. Writers are just below Teamster drivers on the film food chain.
Advice for playwrights?
Create vivid characters. What's different about them? What's special? Unique? Compelling? Give them something they desperately need and make it incredibly difficult for them to get it. Always ask yourself this: why do we care? And finally, love all of your characters–even the villains.
Additional advice for writers?
Be incredibly tough on yourself. Cut things that don't work, even if they took you months to write–even if they were the reason you wrote the play in the first place. Be willing to rewrite. Remember: the best idea wins. Allow yourself the freedom to go in a different direction. Sometimes, that means throwing out entire scenes, or even acts. It's all part of the process, and ultimately, it will lead you to the best version of your play. There's an expression on Broadway: "Cut 20 minutes and run two years longer."
Seriously, how do you do everything (including the non-writing parts of your life/career)?
I sleep three hours a month. Seriously, when we were in high school we all had to take math classes, history classes, English classes–the "requirements." But then we were allowed one "elective," which was a fun class–art or music or shop–whatever we were interested in. I realized that once I got out of school, I didn't have to go into some "requirement-type" profession; I could take all electives. So that's always been my motto. Comedy writing, sportscasting, directing–I pursue endeavors that are creative and fun. And along the way, I continue to learn and grow. That's what keeps me young. I'm "40," remember.
What do you know now that you wish you knew when you first started writing?
Write to please yourself, not what you think is commercial or salable. Don't try to outguess the marketplace or anticipate what agents might like. You'll always be wrong. Write what interests YOU. You have a unique voice and gift. Develop that. I guarantee your scripts will be better. And you'll sleep at night. Best of luck.
Tags:
Author Q&A
Debra Eckerling
Emmy-Winning Writers
Going... Going... GONE!
Ken Levine
Playwright
Writing