Sascha Rothchild is the author of  How to Get Divorced by 30: My Misguided Attempt at a Starter Marriage, which she is adapting into a feature film for Universal Studios.
"It's an age-old story. Girl meets boy in her 20's. Girl marries boy. Girl decides she is way too young to be stuck in nuptial mediocrity." Check out the Book Trailer.
Rothchild has been featured on NPR's This American Life, is on their best-of CD Stories of Hope and Fear, and has appeared in their series for Showtime. She is one of the original performers in the stage show "Mortified"—and is published in Simon and Schuster's Mortified book. Rothchild periodically writes for LA Weekly, LA Times, and MSN, and has weekly blogs on PoliticsDaily and Psychology Today Magazine.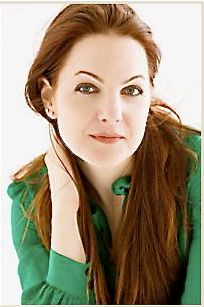 How psyched are you to write the adaptation of your book for the big screen?
So psyched! When I first moved to Los Angeles 12 years ago—a week after graduating from college—I had my sights set on screenplay writing. Over the years I have had many almosts, which is part of the life of a writer in Hollywood, so it feels really amazing to get the chance to tell my own story in RomCom form.
Why did you write How to get Divorced by 30? (It started out as a feature article, yes?) What was your process for getting it published?
I got divorced when I was 29 and a half, as did several of my closest friends. It was like the cusp of our 30th birthdays pushed us to make a mass marriage exodus, out of mediocrity and into independent happiness. I realized this was something that I wanted to write about and although the "starter marriage" phrase was floating around, no one had really written about young divorce. I pitched "How To Get Divorced By 30" to the LA Weekly as an article, written from the point of view that getting divorced by 30 is a good thing, and they loved the concept. The article was chosen to be the cover story and was such a hit that an editor at Penguin contacted me about turning it into a book. I decided rather than focus the story on many people, like the article, I would tell my life story with the demise of my marriage as the anchor. Penguin agreed my life was bizarre enough to make for good entertainment but universal enough for people to relate to, so a year later my memoir was on book shelves.
What was your favorite part of writing the book? The greatest challenge?
I have always written in diaries, which I used as source material for the book, so writing the memoir was really a reshuffling and organizing of my thoughts from the past 30 years. My favorite part of writing was seeing the patterns in my life and connecting past and present to create a compelling story. I figured out who I am while figuring out how to clearly explain myself to the reader. The greatest challenge was making sure to hold myself as accountable as everyone else I write about in the book. I did not want this to be an angry or hostile tale about my ex-husband and instead decided I needed to be the protagonist and antagonist.
How did you decide what to include?
My father, John Rothchild, writes humorous non-fiction so, throughout my memoir-writing process, he was the one I called for advice. I asked him how I should know what to reveal and what to keep to myself because it's so personal. He said, "The second you feel it is too personal to write, that's what you have to write, because that's the good stuff." I took his advice and included it all.
How is writing non-fiction similar to/different from screenwriting?
If screenwriting is done well, the characters should be so believable you can almost hear them at the table next to you. Even if you are writing a Princess or a Vampire or a Serial Killer, the characters should be believable. So in that sense screenwriting is very similar to non-fiction writing. You want to tell a story—with a beginning and a middle and an end—where a compelling character goes through a change. The only difference is if the character is based on a real person OR based on an imagined person who could be real.
How do you balance the different elements of your career?
I like to do one thing at a time. If I have several projects with several different deadlines, I will map out what I have to do when, and start writing. But I like to finish a complete draft of one thing before hopping over to another.
Advice for writers?
Simply, write. You are not a writer if you have ideas. You are a writer if those ideas end up on a page. I think of writing like doing cardio. You have to build up stamina. I like to write for 5 hours a day, and then my mind just shuts off. If I go on vacation or am sick and take a few days off, I feel out of practice and might start back at only 1 or 2 hours a day. If you are just starting out, commit to 20 minutes a day, then build up. And if you have a full time job doing something else, set up a writing schedule for the weekend and stick to it.
What do you know now that you wish you knew at the beginning of your career?
That it is all going to be okay. And like my mother said, it usually takes 10 years to become an overnight success.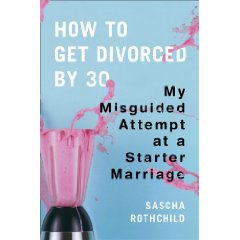 Tags:
Author Q&A
How to Get Divorced by 30
John Rothchild
Memoir
Mortified
Non-fiction
Penguin
Politics Daily
Sascha Rothchild
Screenwriting
Starter Marriage
This American Life
Universal Studios
Write On! Online