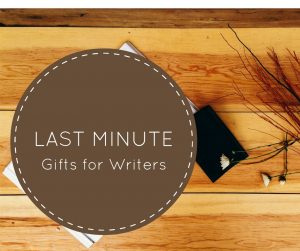 Writers tend to leave things til the last minute. That's why we have – and love – deadlines!
With that in mind, I asked members of the community to share their favorite last minute gifts for writers.
Gifts ranged from basic tools (pen and paper) and writer "fuel" (wine, coffee, single malt whiskey) to gift certificates (bookstore, coffeehouse, massage, and transcription) and extravagance (6 months pre-paid rent and maid service). Someone even mentioned my new blogging book (Thanks, Lena).
Here are some more top suggestions:
Tools
"Writers are notorious for loving their writing tools, including pens, journals, notebooks, printer paper, mailing supplies, and books on writing by other authors." – Sandra de Helen. Speaking of books, we featured the five favorite books on writing last week.
"Maybe a kitchen timer for timed focus writing? … And a planner/calendar specifically for writing projects." – Lena Anani
"#moleskine" – Brad MacDonald
Resources
"A nice, new journal. An ebook reader, assuming they don't have one. A subscription to Writers Digest or another literary magazine. A subscription to Grammerly or another writing-related website." – Margaret Fieland
"A copy of Final Draft." – Cynthia Soroka
"The Aaron Sorkin online masterclass. It's unbelievable!" – Jaci Stephen
"An e-book of course. One that will keep giving by inspiring or helping the recipient in their life or career–which might be the same thing." – Carolyn Howard-Johnson
Priceless
"A voucher for some free babysitting." – Linda Jackson
"A pitch opp" – Anne Lower
"A contract" – Jaci Stephen
"A rejection-free month." – Israela Margalit
What did we miss? What are your favorite gifts for writers? Please share your thoughts in the comments.
Tags:
Books
final draft
gifts for writers
Write On! Online
Writers Digest
Writing