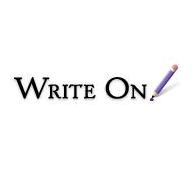 Great news! If you missed my goal-setting workshop at LAX coworking, you can read the recap and watch the livestream replay. Thanks again, LAX, for a fun event!
Post your January Goals on Write On Online or Facebook and be entered in a drawing to win a book from Michael Wiese Productions. Also, share your 2016 Accomplishments and 2017 Goals.
Plus, take part in Win With Write On: Jump Into January Contest. Choose something you have been meaning to do, do it, then report back on Write On Online or the Facebook page. Details here.
* * *
Is your 2017 goal to start or reboot your blog? Check out my latest book: Write On Blogging: 51 Tips to Create, Write & Promote Your Blog. #WriteOn
Upcoming Events
January 18: Breaking the Silence: a comedy show fundraiser for social anxiety at the Comedy Store in Hollywood at 8pm. Details and get tickets here.
January 19: Working Your Network w/ Alyson Garrido Career Coach Lunch N Learn at LAX Coworking ast 12pm. Are you taking full advantage of your network as you advance your career and/or grow your business? Join Career Coach, Alyson Garrido, to learn techniques to build and maintain impactful relationships. Details on Facebook.
January 20: Media Law for Journalists Workshop and Roundtable, 9:00 am – 6:00 pm, at Southwestern Law School, 3050 Wilshire Blvd., Los Angeles, CA. Admission is $20 and includes a light breakfast and lunch. Parking is $10 per car. Get details and register.
January 21: "Method Writing: An Organic Approach to Writing" with Jack Grapes and son Joshua Grapes. This 3-1/2 hour workshop starts at 10:30am, at the Veterans Memorial Building in Culver City. IWOSC members $15; others $35; RSVPs required. All info is at IWOSC.org.
January 24: Q & A and signing for Brad Schreiber's latest book, Revolution's End: The Patty Hearst Kidnapping, Mind Control and the Secret History of Donald DeFreeze and the SLA at 7pm at Chevalier's Books, 125 N. Larchmont Blvd., in Los Angeles. Revolution's End (Skyhorse, New York) finally details after 40 years how the Patty Hearst kidnapping by the SLA was actually an intelligence operation gone wrong.
January 27 – 29: Carolyn Howard-Johnson will be presenting at the GenreLA Creative Writing Conference. This educational and inspirational conference will focus on science fiction, fantasy, horror, and steampunk, as well as mainstream fiction and screenplay. Many New York Times Bestselling authors will be appearing. Carolyn will be speaking on how to make no-cost reviews the center of a marketing program for any genre! The event will be held at the Doubletree Hotel by Hilton, Los Angeles Westside, Culver City, and has new sponsors including Writers' Digest. Get more information.
January 28: TECHMunch LA Food Blogger Conference at Cross Campus in Santa Monica. Details and tickets here.
January 30: Monday evening panel discussing Writers and Websites in 2017 starts at 7:30pm. Panelists include bestselling author Jennifer Brody, and Deborah Shadovitz, Steven Sanchez, and Moderator Greg Miller. Writers, you've got questions about your websites. These web-savvy panelists have the answers! Free to IWOSC members; $15 nonmembers. Also at the Veterans Memorial Building in Culver City; info at IWOSC.org.
Save the Date
February 1: February LA Hangout at Peet's in Westwood. RSVP on Facebook.
February 2: Book'd "The Ultimate Bibliophiles' Night Out" lit event kicks off season five at The Group Rep/Lonny Chapman Theatre in NoHo featuring readings by and a discussion with mystery, romance & YA authors, bookish giveaways, and a catered mingling reception. Get event details.
Ongoing: Female Authors wanted for interviews on the #SheWroteABook podcast with Lena Anani. If interested, please inquire at http://SheWroteABook.com/Guest and please allow up to 24 hours for a response.
Plus
Author Q&As are back on Thursdays on Write On Online. Do you have a new book or an upcoming book release? Want to be featured on Write On Online? For consideration submit your info or email deckerling@gmail.com with your book and website links, as well as your short bio.
Write On Online's Facebook page has been included again in The Write Life's Top Facebook Groups for Writers. Thanks, The Write Life! Welcome to the new members who found us there. Check out the entire list.
In October 2015, I launched the Guided Goals Podcast on Write On's companion site GuidedGoals.com. The podcast is a series of expert interviews, designed to help people pursue their passion projects. Each episode wraps with action items (recommended goals), so listeners can take what they heard, and move forward right away. Watch on YouTube, listen, and subscribe on iTunes, or listen on Stitcher. I will be launching the Guided Goals' newsletter soon. Please sign up and receive "5 Ways to Improve Your Productivity."
Do your kids love to write? Want to encourage them to hone and expand their writing skills? Check out Purple Pencil Adventures: Writing Prompts for Kids of All Ages.  Although it's geared towards kids, there are plenty of prompts adults can use to exercise those writing muscles! Write on!
* * *
Writers, please email me if you have a 2-3 line news item or event and/or if you are are interested in contributing a Write On! Review or Expert Column. Write On!
Tags:
Debra Eckerling
Goals
Networking
TECHmunch
Write On! Online
Write On! Wednesday
Writing