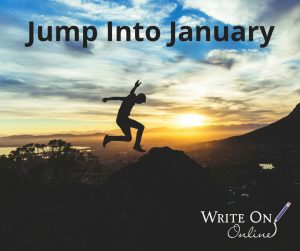 Happy New Year!
Introducing Win With Write On, a monthly challenge, designed to help you improve your professional or personal life – or both.
Like my previous challenges, it will allow for room for interpretation. At the end of the month, a winner (from those who complete their challenge) will be chosen at random to receive a copy of one of my books Write On Blogging or Purple Pencil Adventures.
Drum roll please…
January Challenge: Jump into January
Give the year a running start. Jump Into January. Choose something you have been meaning to do, either in your personal or professional life, that you somehow keep avoiding. Then, do it!
Here are some suggestions:
Pitch a story (or several) to a dream publication.
Query an agent for your book or screenplay.
Rewrite your screenplay, play, novel, non-fiction book, book proposal, or other long-form work. And send it out.
Explore writing in a new genre. Write an essay or short story. Start a blog.
Update resume and send out your resume to X number of companies.
Join a gym. This is a common January goal, so, of course I had to include it. It only counts if you go.
Go to a networking event, conference, or put yourself in a social situation where you know no one.
Volunteer. Donate your time for a cause or help out at a conference or workshop.
Make a drastic life change (move, start a relationship, end a relationship).
Make a phone call to that person you've been meaning to contact but have been avoiding for whatever reason.
Or something else.
The Rules
The rules are simple. Comment on this or the Facebook post with what you plan to do. (If you are shy, you can also email me.) Then, go for it. Afterwards, reply to your comment with a few words describing what you did and the results. You can even attach a picture, if appropriate.
Whether or not your submission is chosen, you will be a winner. That's the point of this exercise. To have a win, feel good, and have the strength and motivation to conquer the rest of your world.
One more thing: Yes, the monthly drawing for just posting your goals will continue. Think of this monthly challenge as a bonus or extra-credit goal, similar to what I suggest in the monthly live meeting.
My Jump Into January: I like to participate in my challenges, along with my readers, so I'll get the ball rolling. My Jump Into January is this: I have been talking about restarting yoga since my birthday in August. So, this month, I will reintroduce myself to yoga. I'll let you know how it goes.
Your turn. How will you Jump Into January? Comment on what you plan to do and then let us know how it goes. You can do it!
Note: Am getting a lot of replies to the Facebook post, so including it here:

Tags:
Contest
Debra Eckerling
Goals
Jump Into January
Win With Write On
Write On! Online
Writing