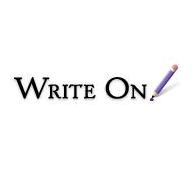 How is everyone doing in this crazy, sheltering-at-home world? Are you starting new projects? Learning new things? You always have a place to hang out in the Write On Online Facebook Group. Plus, keep an eye on The D*E*B Method Facebook page for announcements, as well as live-streams, links, and inspiration throughout the month.
You know, it is the perfect time to re-evaluate your goals and set new ones. Check out my book: Your Goal Guide: A Roadmap for Setting, Planning and Achieving Your Goals from Mango Publishing. Then join the Your Goal Guide Facebook Group for more tips and resources to keep you motivated during this challenging time.
Please send items for the April Newsletter by Monday, March 30. I want to include as many virtual events and  learning opportunities as possible, so send them my way.
More in Write On Wednesday!
Upcoming Events
March 27: Livestream alert! I will be interviewed by fellow Mango author Sherry Richert Belul (Say it Now!) on Mango Publishing's Facebook page at 1pm PT. It will be a fun chat. Join us!
March 29: The Film Festival Doctor is hosting a Zoom on How To Get Your Film Seen On The Festival Circuit Post COVID-19. Get details and tickets.
March 29:  #GoalChat at 7pm PT on Twitter. Topic is April Goals. The #GoalChat Twitter chat takes place every Sunday at 7pm Pacific/10pm Eastern. Read the recaps on Twitter Moments. Need a reminder? RSVP on Facebook.
March 30 – April 5: Speakers Week in the Niche Marketing Hero Facebook Group. My presentation on Rebooting Your Goals is on Monday, March 30, at 1pm PT. Join the group to hear speakers throughout the week.
March 30: Last day to send news and virtual events – 2 to 3 lines + link – for the April newsletter to deckerling@gmail.com.
March 31: Last day to post your March Goals on Write On Online and weekly goals on Facebook to be entered in a drawing to win a book from Michael Wiese Productions.
April 5:  #GoalChat at 7pm PT on Twitter. Topic is Stress Reduction.
April 6 – 10: Virtual Wellness Summit in the Intentional Wellbeing Facebook Group. My slot on 5 Strategies for Productivity is April 6 at noon PT. Join us for mine and other wonderful sessions!
April 12:  #GoalChat at 7pm PT on Twitter. Topic is Virtual Events.
April 19:  #GoalChat at 7pm PT on Twitter. Topic is Staying Healthy.
April 26:  #GoalChat at 7pm PT on Twitter. Topic is Video.
May 3:  #GoalChat at 7pm PT on Twitter. Topic is May Goals.
* * *
Winning Writers 6th annual North Street Book Prize competition for self-published books is offering a free download of Carolyn Howard Johnson's How to Get Great Book Reviews Frugally and Ethically to all who enter . Go to winningwriters.com/north to explore the opportunities. Winners also get a book-marketing consultation with Carolyn in addition to a cash prize. Runs through June 30.
* * *
Please email me if you are are interested in contributing a Write On! Review or Expert Column. 
Plus
Need help figuring out what you want and how to get it? Are you having trouble starting or finishing a project? Check out TheDEBMethod.com. Contact me to get started.
For blogging inspiration read Write On Blogging: 51 Tips to Create, Write & Promote Your Blog. Whether you are starting or relaunching your blog, it will walk you through the process.
Do your kids love to write? Want to encourage them to hone and expand their writing skills? Check out Purple Pencil Adventures: Writing Prompts for Kids of All Ages.  Although it's geared towards kids, there are plenty of prompts adults can use to exercise those writing muscles! Write on!
Tags:
#GoalChat
The D*E*B Method
Write On Wednesday
Your Goal Guide