Write On! Online is pleased to feature author Deborah Reber for this week's Author Q&A. Debbie has written a number of books for teens, tweens, and even preschoolers, including Chill: Stress-Reducing Techniques for a More Balanced, Peaceful You (Simon Pulse, 2008), In Their Shoes: Extraordinary Women Describe Their Amazing Careers (Simon Pulse, 2007), the teen series from Chicken Soup for the Soul, The Real Deal (HCI, 2005-2006), and more than a dozen Blue's Clues books. She writes features for magazines including SIX78th and Discovery Girls and shares insights and advice for teen girls through her blog, Smart Girls Know (www.smartgirlsknow.com).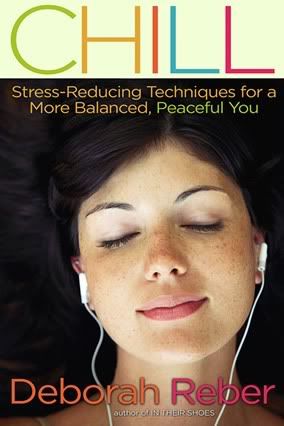 How did you get started? How did you end up with the teen/tween market as your specialty?
While I had written a number of Blue's Clues books while working at Nickelodeon (something I kind of fell into as a part of my job managing ancillary projects for the show), my first "real" book was Run for Your Life: A Book for Beginning Women Runners, and I learned the ropes of writing a proposal, finding an agent, and working with a publisher on this title. I'm exactly not sure what inspired me to even attempt writing a book, other than being passionate about sharing my love of running with women in the hopes of inspiring them to give it a shot. I'm also someone who likes new challenges, and trying to write and publish a book was a big one.
As soon as I finished writing Run for Your Life, I started thinking about new ideas for books, and my attention immediately shifted to writing for girls. For years I had been volunteering with organizations that worked directly with teenagers and young women, and I came to realize that I had something important to share with girls through my experiences, history, and perspective. Having worked in children's television and with UNICEF for ten years also gave me a credibility which I believe helped me break into the teen and tween market more easily.
Why did you write your most recent book?
My most recent book is called Chill: Stress-Reducing Techniques for a More Balanced, Peaceful You, and I wrote it to address the phenomenon we hear all too much about in the media of today's teens being more stressed out than any generation before them. The book includes tons of strategies to help teens manage their overbooked and overscheduled lives and hopefully become empowered to take control of their everyday reality.
What is your favorite part of the process?
Hmmm…my first thought is that my favorite part was the final edit of the manuscript¬≠—that point when you have most of the hard work behind you and you're kind of in amazement and wonder that the thousands of words printed on the pages before you actually came from your own head. But I love the whole process, from the creative brainstorming and figuring out what the book will actually be to the marketing and promotion that happens after publication.
What is the one thing you know now that you wish you knew when you first started writing?
There is no one right way to be a writer. I used to feel bad about myself and the fact that I didn't get up at 5am to write x number of hours a day, or that I didn't set a minimum number of pages I wanted to accomplish per week. I think I judged my ability to do this as a career based on my perceptions of what the writing life should be like. Now I know that it looks different for everyone, and I've come to a place where I know my rhythms and routines and what works for me to have the best creative output.
Any advice for writers of nonfiction?
Love your subject matter before you decide to tackle a book. As a writer of nonfiction, you have to be a relentless researcher, expert, advocate, and marketer. And also, think about yourself as a "brand," and always be finding creative ways to build up your platform, whether it be through a blog or speaking engagements or being an expert in the media or whatever. It can be tough to stand out in today's market and ultimately your ability to sell books, based on your built-in audience, is going to carry a lot of weight when publishers are deciding whether or not to make an offer on your fantastic book proposal.
Tags:
Author Q&A
Deborah Reber
Write On! Online