Paper or Plastic? is one of those films an audience can't help but enjoy! The documentary, about the journey of eight individuals to the National Grocer's Association Best Bagger Competition, is an official selection of the Feel Good Film Festival. It screens Saturday, August 8, at the Egyptian Theatre in Hollywood.
Producer/director Justine Jacob— Paper or Plastic? and 2006's Runners High—who is also an entertainment attorney in the San Francisco Bay Area, speaks with Write On! about storytelling, as well as documentary filmmaking. Jacob is currently in development on a new project about commitment, passion and food, and three individuals using chocolate to change the world.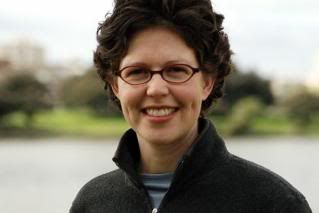 How did you get involved doing documentaries?
I love telling stories and I'm fascinated by telling other people's stories in a fun, compelling way. I started working on other people's projects and decided to jump in and do my own instead of going to film school.
How did Paper or Plastic? come about? Why this subject?
Our executive producer, Oren [Jacob], was sitting with some friends talking about their first jobs. One said, "I was a grocery bagger, but never made it out of regionals." Oren did a double take and learned all about the competition. He called me on the way home and said, this is going to be your next subject. I went to the Utah and California competitions and knew we had a story.
How is documentary similar to narrative filmmaking? How are they different?
They are both about telling compelling stories. period. They differ in that the in documentaries, it is limited to what you capture on film. You can't write a different ending. How you tell the ending may differ, but you're limited to certain footage. In some ways, that's easier because you only have so many things you can do. On the other, it's a huge challenge, because you have very little control over it.
Is a documentary actually written? If yes, how so?
In the type of documentaries that we do—verite and following individuals without providing a narrator—it doesn't seem written, but the fact is, we go in with a pretty good road map of where we're headed in general. Of course, it's impossible to stay directly on course because life happens as you film and you need to go with where the story is, but you can have a general idea and continually re-write the map. Once you have the footage, there's a constant struggle with the story and telling that in a compelling way. Although each word may not be written out, there's a structure, an outline and paper edit that we go through. For example, we actually use flashcards and pictures on cards to map out the story as we go. We can do quite a bit of paper editing before we even get into the room which saves time and money and energy.
What storytelling components are involved in making a documentary?
The same as in fiction films—there needs to be someone/thing we care about, a change/challenge that occurs, a desire, an inciting incident, etc.
What was your favorite part of making Paper or Plastic? The greatest challenge?
I have two. My favorite parts were the traveling to all these wonderful places to meet these individuals. It was such a positive experience getting to see the different places across the US and being welcomed into these people's lives. And second, the editing. I loved working with the material, finding the most compelling way to tell this story and workign with such talented folks to bring out the essence of what we were making.
The greatest challenge was technical—we filmed and cut on HD and it seemed that everything that could go wrong, went wrong technically—mostly in the edit room.
How has the film festival circuit benefited you and Paper or Plastic?
The festival circuit was great to premiere at Los Angeles Film Festival and start getting the word out about the film. We make films for an audience to see, not just to subject them to friends and family, and it's a real joy to be in a festival audience especially of people who just love seeing films. The festivals we've gone to treat the filmmakers so well and we fell honored to be there.
What's next?
We are working on getting our next film—Chocolate—funded, as well as a few short films we have in the works. We want to keep telling stories.
Advice for filmmakers and other creative professionals who want to get their work seen?
Keep putting it out there. Festivals are great, but not the end all and in fact they cost a lot of money. If you don't get into festivals, put it out yourself, put it on iTunes, promote it yourself and find your audience. Don't wait for others to tell you it's OK to put your film out there—just do it. The social networking tools available these days are incredible. No one really knows what they're doing, so don't take expensive seminars. Look at a few films that are doing it well and follow what they do. And again, just do it.
What do you know now that you wish you knew at the beginning of your career?
Phew—there's a binder full of those things! Since I'm on the other end of both films now, I guess it would be how difficult distribution is, the options available, and to not wait for permission to distribute our films.
Tags:
Author Q&A
Best Bagger competitio
Debra Eckerling
Documentary
Justine Jacob
National Grocers Association
Oren Jacob
Paper or Plastic?