Paul Kampf's 11, September is provocative drama, exploring the defining moments and circumstances that alter people's lives.
"I always hope that we playwrights push the envelope of human truth when we put something on the stage," Kampf tells Write On! "The circumstances must be heightened to the breaking point of the characters' current situation. I think that if the raised-stakes of the story match the raised-stakes within the life-experience of the characters, then it creates a believable theatrical experience."
Also an actor, Kampf is the Artistic Director of Breadline Productions, a company dedicated to both film and live theater production, which grew out of Breadline Theater Group in Chicago. He has appeared in more than 20 Breadline's productions and has written over a dozen plays for the stage. Kampf made the move to feature films with his adaptation and direction of his stage play, American Gothic, and just finished shooting the film, From Grace, which he wrote and directed.
Kampf stars opposite Liz Rebert in the world-premiere of 11, September. Opening night is Friday, January 8. 11, September runs Wednesday though Sunday through February 7 at Odyssey Theatre, 2055 S. Sepulveda Blvd., Los Angeles CA 90025. For tickets and more information: www.11SeptemberPlay.info.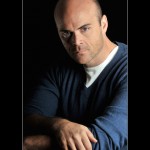 Where do your ideas come from?
They come from an initial feeling that I have something to say about a subject or a situation that seems prevalent in my life, and I suspect it's a shared interest among larger groups of people. It is this exploration of my own conflicts about the subject that propels me to write a story through which characters wrestle with aspects of those same dilemmas.
How do you approach the blank page?
Like most writers, the blank page used to frighten me to death. It's an endless blizzard of nothing. The first step for me is to write everything with pen and paper. It allows me to remove the excuse that I can't find concentrated time in front of my computer. Secondly, I place very specific limitations on the script for the sake of the first pre-draft. When I have an idea of the story/characters, I limit the characters to actions/interactions that really reflect the truth of their point of view of the relationship.
For example, if it's a husband and wife of 20 years going through a rough time in their marriage, I'll limit one of them to only responding with single words, while the other avoids asking any direct questions. I don't know where this will go, but it creates great amounts of tension and conflict that help me figure out the characters as they unfold on the page. The characters start helping me move them from my idea into their existence.
Third, and most importantly (and difficult), I refuse the temptation to edit as I write. I force myself to continue forward understanding that it's just a pre-draft of every aspect of the script. I usually find that by the time I finish this pre-draft, the characters and story are really breathing in the last half of the script because a lot has been discovered in the process.
I then take out a new notebook and start creating a structure/outline from this pre-draft to create the first draft of the script. By the time I tackle the "desperately needy" cursor of my computer, I feel strongly that I can both transcribe what I've written and adjust as need be without feeling like I've lost my way.
When I complete the first draft of any new script, I have to ask myself if the story that I've created is told through unique, complicated, three-dimension characters or is it a "writer's point of view?" If it's the former, I go forward. If it's the latter, then I try to identify where the writer took it away from the characters. I start over at that crucial juncture and try to give it back to them.
What was your favorite part of writing 11, September?
It's a very hard question to answer, of course, but I will say that it was the process of revealing how these two souls have impacted each other's lives, knowingly or unknowingly. Where along the way they make choices to tell the truth or to lie that change everything about the outcome of their experience over a two-day period.
The greatest challenge?
The greatest challenge was to put two, virtual strangers in a room together and find organic ways for each to unburden crucial information about the past, while keeping it a present experience.
How does acting in your work clarify your vision?
There is a different acting experience for anyone who picks up a script that he or she has written. For me, acting a role that I've written requires me to do the same work as any other piece of writing. I must complete the creation process that the author put in motion.
If you asked me 15 years ago about acting in something that I've written, I would have said something really self-assured like, "I get the chance to play the depth of the character's experience' an experience that I really understand." But that would have been all self-protecting actor insecurity. One thing I know for sure now is that no author really knows what the hell they've written. They brought their imagination, their hopes and their insecurities to the creation of a character. Those are great signposts in the darkness.
So to try and answer the question more directly, I think the run of any play is the process of trying to clarify the writer's intent. By the close, I hope that I have a better personal understanding of what propelled me to write it in the first place.
Are there specific challenges to being both an actor and the scribe?
The greatest challenge is to shut up when you think you know what a moment is about, and to speak up when you're completely lost.
What are some tips writers need to know when considering a play?
I would say that I have strong opinions through experience, rather than tips. It's essential to tell a story that means something to you, personally, whether or not anyone ever reads it or if it's mounted in any theater. Writing something that you believe "fills a niche" or "will sell like hotcakes" is a very scary approach. Tell a story that costs you emotionally to write and that is a story that you'd love to sit in the audience and experience. Artists of similar aesthetic will find you. Audiences are not far behind something authentic.
What are some mistakes newbie playwrights tend to make?
I think new playwrights and experienced playwrights still deal with the same major potential pitfalls. It's a truly collaborative art form. We need to leave room for the actor to bring the role to life, and the director to find that specific production of the play. That doesn't mean leaving things out, it really means creating stories and characters that have the foibles and contradictions of our human condition. If it reads the same way it plays, then it's only as good as a stage reading.
I would also say that the theater is not about portraying the reality we experience everyday. It's about heightened emotions on all sides of the human condition that allow an audience to encounter themselves up on that stage. Whether an audience loves or hates a play you've written, do not let them walk out indifferent. Indifference is the necessary condition of our real lives, not the theater.
How has Breadline grown from your initial vision until now?
With history as my lens, I will say that Breadline's vision was the colliding of three stubborn, determined guys who got into a room and discovered their love of creating together. Through the company's ups and downs, successes and failures, additions to and departures from the company, I can say that the vision throughout has been to challenge artists to put something important in front of a contemporary audience. The form and content will always evolve, but that underlying belief is the center of Breadline's vision.
What's next?
This is Breadline's inaugural theatrical production in Los Angeles and it is our intention to produce more world premiere theater, as we meet new and like-minded individuals—some to support our work, some to help create what we put on stage.
We recently finished a feature film, and have two short films and a documentary in post-production. We made all of these projects with the same approach to storytelling. With the continued success of our actor-training program, it is our vision to integrate theater and film production, while keeping an identifiable Breadline aesthetic.
Additional advice for writers?
Don't wait for someone to find someone to find someone else who can perhaps help you get your script from the page to the stage or screen. It's your baby. Giving birth is the easy part. After that, the real work begins, both rewarding and tiring.
What do you know now that you wish you knew when you first started writing?
I wish I knew that every writer, no matter how successful he or she may be, still has those moments of absolute self-doubt. It took a long time to realize that it's what you write while you're in that self-doubt that makes you a professional.
Tags:
11 September
Author Q&A
Breadline
Debra Eckerling
Liz Rebert
Odyssey Theatre
Paul Kampf
Playwright
Theatre