Gemini Adams is an artist and educator, who has written several inspiring, lifestyle-enhancing books. Titles include The Facebook Diet, The Top 100 Recipes for Happy Kids: Keep Your Child Active, Alert and Focused, and Your Legacy of Love: Realize the Gift in Goodbye.
Gemini shares her writing background, talks about the need to unplug – the topic of her latest book, and offers sound advice for those writing non-fiction books.
What inspired you to first start writing?
It seems that I've always been a writer. I loved writing stories at school, diaries as I grew older, and then, after taking a detour into business and marketing after college, I found myself writing a lot of copy for marketing materials and press releases. However, I found this format very limiting so that's when I started to look into freelance writing and to take my work in a more professional direction. Within a year or two I was getting articles published in a series of women's and health magazines and had my first book deal: The Top 100 Recipes for Happy Kids from Duncan Baird Publishing.
Why did you write The Facebook Diet?
I was getting increasingly frustrated with the amount of time I was having to spend behind a screen. I wanted to really take a deeper look at how social media and our increasingly screen-centric lifestyles are really impacting our mental health.
As a writer I try to limit my screen time by writing freehand and then typing up my work later on. This gives me the freedom to write wherever I like: in the garden, on the beach or even at the spa! This approach forces me to do a first edit when I do type up my work which is helpful. But the best part is I get to take regular breaks from using technology. The Facebook Diet is really an extension of this.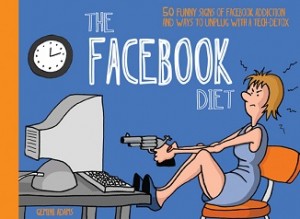 What do you hope people learn from it?
I hope it plants some subtle seeds of awareness and gets readers to begin to question the health of their high-tech lifestyles. I'd also be pleased to know that The Facebook Diet gave readers a really good laugh! And inspired them to think a little more consciously about their setting up digital boundaries, taking a digital detox, and generally thinking harder about their use of technology.
What was your process for writing it? Getting it published?
My favorite part about the creation of this book was that it actually enabled me to unplug from all of the daily computer work that author's are now required to do: managing websites, social media updates, article writing, emails, etc. While working on the book, I spent my mornings out in the garden doing the drawings and then the afternoons doing research and revising the written part. It was heaven!
I am a co-owner of Live Consciously Publishing, so the publishing part was easy. However, that does mean I am responsible for many other aspects of getting the book into the hands of readers, and that takes a huge amount of time, energy and resources.
In what ways was writing this book similar to/different than your other publications?
This was radically different to all of my other books for a number of reasons. It's the first time I've tackled humor, and, despite being an artist who has drawn a ton of pictures, designed posters, book covers, you name it, I've never illustrated a book before, so the process was entirely different.
Your experience spans several different niches. For what reasons should a writer expand his or her area of expertise?
I follow the philosophy of "do what you love." Also, my work is mainly in the non-fiction arena which perhaps makes it easier to switch between subjects. Some would argue that you shouldn't cover such a wide area of expertise, and that you are therefore not an expert! However, I was heavily influenced by my mother who was an investigative journalist for the BBC, and like her, I do a huge amount of research and choose subjects that I am both passionate about and are ones that I have substantial personal experience. Bearing in mind that as a writer you can find yourself discussing your work for anything between 3 to 30 years after you've completed it, you better be sure that you like the subject!
What should a writer do before starting to write a non-fiction book? How should s/he prepare?
There are 5 key check points I go through before writing anything. These are:
1. Checking to see what the competition is. Can I offer something truly different and valuable in the face of so much information overload?
2. Clearly identifying the audience for the book. This impacts on style, voice, content and the future marketing, it's an essential element for non-fiction works.
3. Doing extensive research on the subject. I want to know my stuff! I also want to know that this subject is relevant and of interest to others.
4. Testing the market. Doing a small focus group with the target audience to see if there really is a need for the book.
5. Getting clear on how and who to market the book to. I need to know that it will sell. After all, I need to make a living!
Additional advice for non-fiction writers?
We really do live in the age of TMI (too much information!). So you have to ask yourself: "why will someone pay to buy this book if they can find the answer online?" You have to think about how to package your work in a way that makes it commercial, attractive, and different. Most non-fiction books provide content that you can find on a website, but they do it in a way that offers real value. That's the biggest barrier you have to overcome in today's market. And it's a question that agents, publishing exec's, distributors, and book buyers will all ask you, so be prepared and really give it some thought.
What do you know now that you wish you knew at the beginning of your career?
That there is no single better device for promoting your books than having bucket loads of perseverance and persistence!
Tags:
advice
Author Q&A
Facebook
Non-fiction
Social Media
The Facebook Diet
Write On! Online
Writing