Write On! talks to members of the band Proverbial Cool Aid, which "came together when [the band] Fast Addie merged with musician John Bajor," explains lead guitarist Damen Martin.
"I was working on a solo project collection of my songs," lead vocals, guitarist, and songwriter John Bajor elaborates. "Damen Martin was in a band called Fast Addie. I needed a band, and they needed a singer. So we decided to release a mixture of our sounds by founding a new band called Proverbial Cool Aid (PCA)".
"PCA plays a fusion of Blues roots and rock," explains Miguel Barajas, who plays bass and keyboard. "Every one of us has played a part in creating our organic sound. Damen and John being the composers, John gives the edgeness to the music with his voice, as does Damen with his Les Paul, Matt keeps the beat together, and me, … well, [I spice] it up a little on the bass."
"Our style," drummer Matt Burgon adds, "is a mix between R&B and rock. I joined when Damen heard me playing my drums from his house next door. He knocked on the door and asked if I wanted to jam sometime. Five years later, here we are."
Next up for Proverbial Cool Aid: A live album and their next studio album. Today, they talk about their music, background, and songwriting experiences.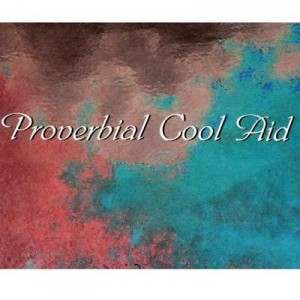 How did you first get involved in music?
Damen: I picked up my Dad's Classical guitar when i was 16. He got me started.
John: I was a production manager for Bill Graham Presents. I helped manage the Grateful Dead, Jerry Garcia Band, Bob Dylan, U2 Paul McCartney, etc. Although I'd do it all again, it was ultimately a distraction towards my own self progression as a musician. Now I fondly remember all the legends I worked for and they have become my influences.
Matt: I have been involved in music as long as I can remember. My mother is a wonderful piano player and made us all take lessons as children. Our house was always filled with music and stories of my great grandfather who owned a music store and was self taught on every instrument. When I was 5, I attended my brothers basketball games and would sit with the percussion section of the band. The band director recommended that my mom put me in drum lessons so my parents did. I took lessons for about a month but stopped because I didn't read yet and so trying to read music was useless. Didn't do much with drums until I was 15. One of my good friends played and got me interested again. Started taking lessons, joined school band and orchestra etc and the rest is history.
Where does your songwriting inspiration come from?
Damen: Life experiences, women, family, traveling.
John: I write from the heart, from pain, and joy. I am most creative, expressive and productive when my heart is a wreck, or when I am overjoyed. Sometimes I write tunes alone in the middle of the night or during my lunch in my head. It can happen at anytime, but I must realize it, stop and write.
Miguel: Past life experiences and just exposure to a lot of great artists.
What is your process for writing your songs?
Damen: I have ideas that I just work out into songs. Seems to work for me.
John: Either Damen or I will write a song and introduce it to our rehearsal.
Miguel: I just feel out the tune. I try to find the vibe of the song and add the bass.
Matt: Generally we get in idea, play around with it for awhile, then go into the studio and record and work out the details.
What is your favorite part of being a songwriter/musician? The greatest challenge?
Damen: The greatest challenge is getting a long with all the different personalities, working together for the greater good of the band. My favorite part is listening to out tunes while I'm driving down the road.
John: Performance. My most comfortable moments are when I am fully engulfed in my guitar and song. It is the only time I can fully express my feelings. The most challenging thing is communication with the band. Musicians can talk and think like monkeys. We think we are talking about the same thing, but we are in other worlds sometimes. "I call it monkeytalk"
Miguel: The best part is that Many times things doesn't go as planned so as a musician you have to be prepared for anything. My motto is, always deliver your best performance notwithstanding the circumstances.
Matt: Performing for an audience that really gets into the music, no matter what the style, place or location. Nothing feels better than being on stage. The greatest challenge–trying to keep everyone in the band on the same page when making decisions.
What is your favorite song on your album? Why?
Damen: My favorite song I think is "Feelin' Pretty Down." It's funky, bluesy, and just a hard driving song. Maybe "Southwestern." It has a certain feel to it that I just love.
John: My favorite song writing is "Waitin' on the Rain" because it deals with a very intimate moment that we all will experience. It is written about the moments when your death is eminent and you can't get back home. My favorite performance song from the album is "She's Livin' Alright" just because it sort of fun suits my typical relationships with women.
Miguel: "Feelin' Pretty Down," it's obvious! Cuz I get to give it that funky sound!
Matt: "I've Been Known." Easily the coolest song on the album and most fun to play.
Advice for songwriters?
Damen: Follow your dreams guys, keep writing, push the boundaries of the tunes you write.
John:When you are down and out, when life sucks, when you have been kicked in the back, express it through sound.
Miguel: Don't be afraid to push the envelope and challenge the normal conventions of writing tunes.
What do you know now that you wish you knew when you first started writing?
Damen: How to play guitar better…. haha.
John:I know now that it is the only true outlet.
Miguel: My instrument, my style, and just the whole recording process.
Tags:
Damen Martin
Fast Addie
John Bajor
Matt Burgon
Miguel Barajas
Musicians
Proverbial Cool Aid
Songwriting