Increasing Your Blog's Readership
by Linda Fulkerson, The Ultimate Guide to Blogging Well
The number-one question I get asked as a blog coach is "How do I get people to come to my blog?" Blog traffic streams flow from three areas: offline, on-site, and off-site. There are a lot of quick and easy tactics bloggers can employ to increase blog traffic from all three.
Offline Promotion
Offline ways to increase blog traffic include speaking engagements, networking at conferences, print articles and interviews, passing out business cards and brochures, or even placing a banner on your car. Because many offline methods are expensive and time-consuming, most bloggers choose to promote their sites online.
Online/Off-site Promotion
When planning your website traffic strategy, look beyond the borders of your blog and develop off-site "outposts." One of the best free ways to stream blog traffic is through article marketing. Writing and submitting articles to directories not only brings awareness and backlinks to your blog, it sets you apart as an authority in your niche and strengthens your personal brand.
An easy-to-establish outpost is your email signature. By personalizing your email signature with free tools such as WiseStamp, you can include links to your social media profiles in every email you send. Commenting on other blogs is a great way to connect with like-minded bloggers and may even land you some guest post offers.
Don't forget to promote your posts, guest or otherwise, through social media outposts. Social media can be overwhelming, but at the very least, I suggest that bloggers set up a Facebook fan page and stay active on Twitter. There are ways to use both tools effectively without taking up a ton of your time. (Read: "Taming the Twitter Beast in 20 Minutes a Day.")
Video is huge in the blogosphere these days. YouTube is quite possibly the fastest growing content site, with more and more content being added daily, and it is only one of several dozen online video-sharing sites. Other outposts to consider are podcasting directories, (such as iTunes), presentation-sharing sites, and the ever-popular image-sharing platform, Flickr.
Online/On-site Promotion
Search Engine Optimization (SEO) is vital to receiving traffic from search engines. Many bloggers, especially new ones, believe there is some big mystery to optimizing posts, but it's much easier than you might think. By doing simple tasks, such as effective use of anchor text, internal linking (called "Deep Linking"), including alternative text in image attributes, and using keyword-rich permalinks, bloggers can notice a quick increase in the search engine results pages for the keywords and phrases they've optimized posts for.
The better search rankings your post has, the more organic traffic you'll receive. I offer SEO tips every Saturday at OnBloggingWell.com, and there are even more tips and tactics on SEO (and a variety of other subjects) in my eBook, The Ultimate Guide to Blogging Well.
Getting Repeat Readers
There are literally countless ways to drive traffic to your blog, but if you don't have something of value to offer those who stop by, they won't return, so an important question for bloggers to ask is, "How do I get readers to come back to my blog?"
Think of the StumbleUpon user with the itchy trigger finger, daring bloggers to give him a reason to click the Stumble button. The average Stumbler spends 8 seconds on a website. That may seem like an eternity for a bull rider, but for bloggers hoping to help their bounce rate, it's a challenge we need to tackle.
So, how do bloggers hook return readers? Headlines are the most essential factor in grabbing a visitor's attention, followed closely by site design, but the number one way to reel them in and keep them is by creating compelling content.
If you just heaved a heavy "I already knew that!" sigh, don't worry. Most of us know what to do to build a blog readership, but we don't always know how to do it. I've just begun a "Blog Blossoms" newsletter to help you jump start your creativity and develop stunning posts. You can sign up to receive a free blog blossom a day at FreeBlogBlossoms.com.
Combine these brainstorming burgeons with an attention-getting headline and conclude with a specific call to action, such as "be sure to subscribe to my email newsletter list," and you'll soon have a host of regular readers on your blog's doorstep, waiting to get in.
Thanks, Debra, for inviting me to share today! Please use the comments section to ask any questions you may have about blogging. If I don't know the answer, I'll dig around a bit and get back to you.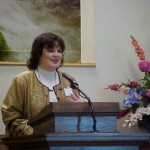 Linda Fulkerson is an author, speaker, blog coach, social media enthusiast, wannabe photographer, and creator of the instructional blog, On Blogging Well. She lives in central Arkansas with her family, dogs, goats, ducks, geese, turkeys, and a rooster who stalks her.
For more blogging tips, subscribe to On Blogging Well's RSS feed. Register for Linda's blogging tips newsletter and receive your free copy of The Blogger's Checklist.
Tags:
article marketing
Blogging
Facebook
FreeBlogBlossoms.com
Linda Fulkerson
Moving Write Along
Off-line Promotion
Off-site Promotion
On Blogging Well
On-site Promotion
Search Engine Optimization (SEO)
The Ultimate Guide to Blogging Well
Twitter