Geoffrey Golden is the Co-Founder and Editor-In-Chief of The Devastator, a quarterly print comedy magazine. A comedy writer and producer living in Los Angeles, Golden has written feature animation, video games, books, comics, comedy articles, blogs, and web series. Past clients include Warner Bros, Fox, Cracked.com, Capcom and National Lampoon. Plus, he wrote the upcoming American version of the Korean animated movie Aachi & Ssipak for Mondo Media and Lionsgate.
Golden talks about his experience writing in multiple formats, his process for creating The Devastator, and more.
On Thursday, December 9, join Geoffrey Golden and contributors for the Devastator #2 Release & Christmas in Space Party at Meltdown Comics, 7522 Sunset Blvd., Hollywood, from 8 pm to 10:30 pm. Entrance is free with purchase of The Devastator #2! Details and RSVP on Facebook.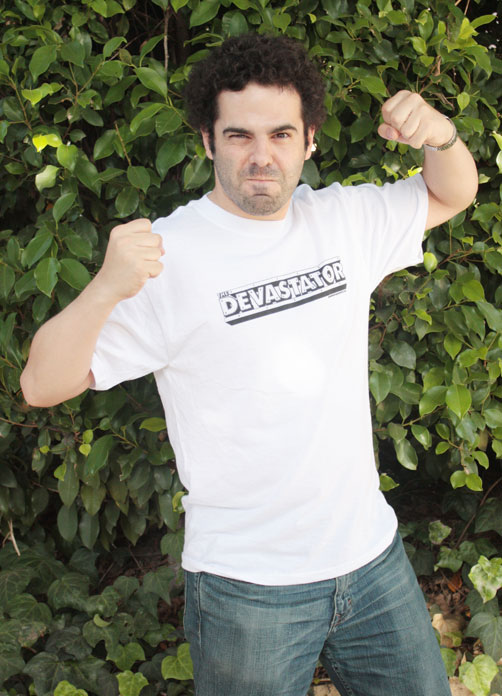 What inspired you to become a writer?
I wanted to be a writer since I was in third grade. We had an assignment to write commercial scripts for a fictional product. After finishing the assignment, I just kept on writing more and more funny ads. At first, my teacher gave me extra credit, but pretty soon she was like, "Uh, we're all moving on to line graphs, Geoffrey…"
What is The Devastator? How did you come up with the concept?
The Devastator is a quarterly comedy magazine, comprised of original comics and written satire. Our writers and artists are from The Daily Show, The Simpsons, Marvel and DC Comics, the Onion News Network, McSweeney's—cool places like those. We're in comic book stores across the country and now in the UK!
After writing and drawing an 8-page mini-comic for Meltdown University, the comics school at Meltdown Comics, I had the idea to make a photocopy zine along the lines of Army Man. Amanda Meadows, my girlfriend and now the Managing Editor of The Devastator, showed me Kickstarter—a website where folks can donate to the creation of a project. She inspired me to think bigger and together we raised funds to print a full-color, perfect-bound quarterly book instead. To paraphrase Mr. Jon Lovitz, "That was the ticket."
What is your production process?
Here's the Cliffs Notes version: The first thing we do is pick a theme for the book, like "Cartoons" or "Science Fiction." We then ask a list of writers and cartoonists to pitch ideas based around that theme. We pick the ideas we like and get drafts, all the while offering notes and feedback. Finally, when we've collected all the finished writing, comics, and illustrations, we work with a layout artist to put it all together in inDesign. The final PDF goes to the printers, and a month later we have 10 boxes of books to unload to stores. Finally, we get drunk at Meltdown Comics. The whole process takes a few months from pitches to drinking.
What is your favorite part of doing The Devastator Series? The greatest challenge?
This is going to sound like a Miss America answer, but my favorite part is working with so many talented writers, artists and my Managing Editor to create something funny and new for the comics world. *Accepts Crown* It's also the thing that makes this project different for me, because it's not just me at my desk. I'm collaborating with 20+ awesome people, shifting frequently between writer, editor, and publisher mode.
The biggest challenge for me is all the business-y stuff. Running the online store, keeping track of finances, filing contracts—that kind of work is a bit out of my comfort zone, but I'm learning. The creative rewards far outweigh the business chores.
Why comedy? Do you have any advice for people who want to develop their comedy writing?
I've always been writing comedy. There was never a point in my life when I was like, "Okay, I'm either gonna write comedy or gritty, violent dramas about murdered prostitutes. Time to choose."
Hmm… Well, I started out by writing in other people's styles. I would write sketches I thought would be great for Kids In The Hall, and comic strips patterned after Bloom County, and asked for constructive feedback from people I trusted. Simultaneously, I wrote original scripts and jokes just to make me laugh. I also watched and studied comedies—new, classic, American, foreign, and Spaceballs—about a billion times.
You have written in a variety of formats. Which is your favorite? Which do you find the biggest challenge?
If I had to choose, I would pick writing for animation and comics. I first saw Who Framed Roger Rabbit? when I was 6, and was crushed to learn Toontown wasn't real. (Thanks, Mom!) Unfortunately, I don't have a great hand as an artist, so writing cartoons is the closest I'll get to doing tequila shots with Michigan J. Frog at the Ink and Paint Club.
I also love writing video games, though they present many challenges. Telling a non-linear story can be tricky. Making a game world feel "full" sometimes requires pages and pages of mythology that are far more complex than a TV show bible. Designing in-game items usually requires a lot of fact-checking. However, as a writer, I'm always up for a challenge. Plus, I get to play rival games as "research."
What do you say to people who recommend writers do only one thing?
It's good to have a niche, but practically speaking, is your niche supporting you financially? Learning skills like SEO or grant writing can help pay the bills while trying to sell your stacks of space opera/political thriller/western/teen sex comedy screenplays.
A lot of what I write can be classified as "off-beat comedy," but I've learned how to write in different formats by studying structure. Learning different writing structures will expand your frame of reference and could even help you write in your niche style better.
Additional advice for writers?
How about: Write what makes you happy. If you have a job writing things that make you miserable, try to find something you're passionate about within your assignments, and keep working on independent projects that excite you.
What do you know now that you wish you knew when you first started writing?
Success in writing seems to come in waves. Sometimes you feel like you're on top of the world, other days your momentum is tapped like forest mana after casting "Force of Nature" in Magic: The Gathering. (That metaphor was written with middle school me in mind.) It's normal, so keep your head in the game and keep making steps towards your goals.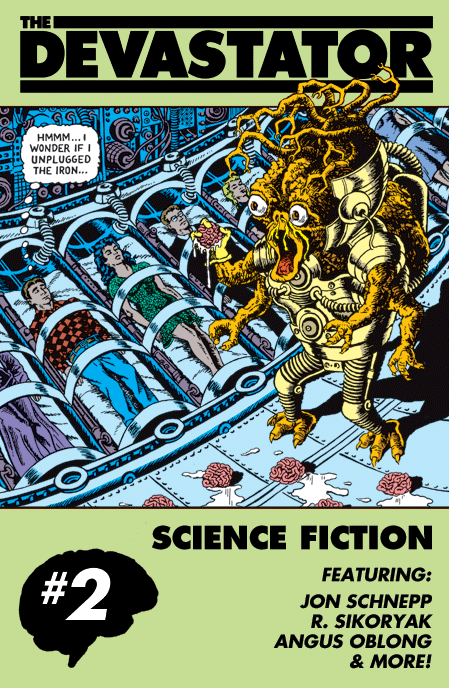 Tags:
Amanda Meadows
Army Man
Author Q&A
Cartoons
Comedy
Geoffrey Golden
Graphic Novels
Kids in the Hall
Meltdown Comics
Meltdown University
The Devastator Quarterly
The Simpsons
Writing