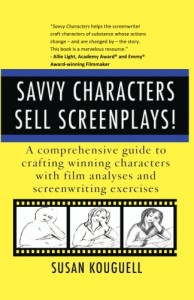 Today's Q&A is with Susan Kouguell, author of Savvy Characters Sell Screenplays! (use discount code G22GAZPD for $1 off) and The Savvy Screenwriter: How to Sell Your Screenplay (and Yourself) Without Selling Out! Kouguell is an award-winning screenwriter and filmmaker, who teaches screenwriting and film at Tufts University, and is chairperson of Su-City Pictures East, LLC, a motion picture consulting company founded in 1990.
Kouguell talks about her background in screenwriting and filmmaking, offers advice on writing and creating great characters, shares her favorite writing exercise, and more.
How did you get your start writing about screenwriting/filmmaking?
I began screenwriting and making films while I was an undergraduate at SUNY Purchase. I collaborated with a fellow student and over the next six years we made six short films. Our second film was acquired by the Museum of Modern Art's permanent collection and all six films were acquired for the MoMA archives, won international film festivals, and were included in the Whitney Museum of American Biennial, as well as other notable exhibitions.
Soon after the collaboration ended, I had the great fortune to work with the late French film director Louis Malle on his documentary And the Pursuit of Happiness. In addition to doing the research, production coordinating, and working on the small crew, I had the great opportunity to work closely with Louis on writing and editing the voice-over narration. Towards the end of this production and through contacts made on this film, I was hired to write my first feature.
Before and after working with Louis, I also worked at a number of production companies and studios, including the story and casting departments at Paramount Pictures and for Harvey Weinstein at Miramax as a story analyst, story editor, and writer. All of these experiences with companies provided me with a strong education into the business of screenwriting and filmmaking.
How do you balance teaching, writing books and articles, etc?
As a member of the overachievers' club, not to mention a mom of a teen, I have refined the art of being a good juggler and functioning on little sleep! Seriously, the balancing act is challenging but I love to write and I love teaching and consulting. I've always been self-motivated and self-disciplined so I manage this balancing act by keeping organized and maintaining my sense of humor.
What was your process for writing Savvy Characters Sell Screenplays? How did you go about getting it published?
It was a very long process to write Savvy Characters Sell Screenplays! I had written The Savvy Screenwriter! about 10 years earlier and had self-published it, and then the book was picked up by St. Martin's Griffin a few years later at which point I was hired to write a new edition that included updated reference material and more templates for queries, synopses, and so on. I started writing Savvy Characters Sell Screenplays! about six years ago and, as with my previous books, I was inspired to do so by my Su-City clients and students, who suggested I write another screenwriting book, but this time focusing on crafting characters and specifically how characters function in all the essential elements of structure, plot, genre, and so on—and to include writing exercises and examples from films just like I do in my classes and workshops.
I began the process by sifting through and organizing all my lecture notes from classes and workshops, and outlining the topics most commonly addressed and asked by my students and clients, and proceeding from there. Then, as I started rereading my lecture notes about films, I admittedly got just a bit carried away—and the initial dozen or so films I intended to reference for the book grew to over 220, and then I realized that only a dozen writing exercises were not enough, so that grew to 34, and then I realized that another great tool from which to learn is to have templates to reference, so I wrote six templates from fictional scripts to provide hands-on assistance with constructing characters. In other words, I became just a bit obsessed!
When I completed the book I had a book agent but when I submitted the manuscript to her she had just shifted her agency to representing a specific fiction genre only. I queried some big publishers and received some equally big bites, but the process was taking too long and the economy was poor, and the reality was that I no longer had the patience to wait for a decision, receive just a nominal fee for all my years of work, and sign away copyright ownership. Call me a control freak—I decided to self-publish once again. It was not such as an easy decision though given the amount of work it takes to promote a book, and so on, but I felt that I already had an initial built-in audience with my Su-City clients, students, Savvy Screenwriter fans, and followers of my articles.
What are the three biggest mistakes screenwriters make when creating characters? How can they fix them?
These top three mistakes are in no particular order. (There are more tips in my book!)
1. Lack of character development. This occurs when screenwriters don't take the time to develop their characters and the result is that their characters are not distinct and become interchangeable with other characters. Readers must understand what makes characters tick! One suggestion to fix this problem is to write character biographies in each character's voice from his or her point of view.
2. Characters lack empathy. Often I read scripts in which characters are not empathetic (and I don't mean that they are not sympathetic)–I mean that I just don't care enough about them to root for them to succeed or fail. Generally, this issue stems from the fact that screenwriters actually do know who each character is but it is not translating clearly onto the page (the characters are inside the screenwriter's mind but have remained there)–or that the screenwriter isn't really sure who their characters are, which generally highlights the fact that screenwriters don't really understand what their screenplay is about. One way to remedy this situation is to get constructive and objective feedback on the script.
3. Characters and plot must be true to the genre. Each character's function in a script must somehow advance the plot and be true to the story that the writer is conveying. Understanding the genre conventions for your plot is vital. One solution is to see movies in the genre you're writing.
How important is it for a writer to have a niche/specialty? Do you recommend writers develop their own specialty? Or are they better off diversifying into various genres and mediums?
I don't think there is a "one size fits all" answer. In my experience as a script consultant and teacher, I continue to see that what works for one screenwriter may not work for another. In a perfect world, if a screenwriter can write a script in different genres to show potential agents and companies his or her diversity, that's a bonus, but if a screenwriter feels, for example, that he or she is a great comedy writer and understands the conventions of the genre and can successfully deliver on this, then the screenwriter should stick to that. I feel this also applies, for example, if a screenwriter's niche is screenwriting but he or she feels that it's time to branch out into writing fiction, then give it a try but if it's not the right fit, that's fine, then just focus on screenwriting.
My feeling is that writers should write what they are most passionate about and in the medium in which they feel the most comfortable. It definitely can't hurt to try something new and out of your comfort zone, but don't place unnecessary pressure on yourself –it can be challenging enough just to write in one specialty.
What is your favorite writing exercise?
The following exercise is an excerpted version from Savvy Characters Sell Screenplays! My Su-City Pictures East clients and Tufts students have also told me this is their favorite, as it is mine–and I believe why this one has become so popular is that the writer is putting a character in a specific scenario and the interview questions I provide are specific to help guide the screenwriter to painlessly delve into their characters.
Picture your character being interviewed on a talk show. (For some characters, being in the spotlight is an opportunity to get the attention they have always wanted, but for other characters, this might be a frightening scenario if they are terribly shy or phobic.) Or, put your character on a therapist's couch; perhaps this is the first time that he or she has gone into therapy or maybe your character has been in analysis his or her entire life. Choose a scenario that will enable you to delve into your characters' minds. Whether it's a television talk show, a therapist's office or another scenario, envision the setting and the person interviewing your characters, as you incorporate your characters' emotions and reactions to their responses. Your characters can answer some or all of these questions, and you can invent some of your own.
Additional advice for screenwriters?
Always keep in mind that the film industry is just that, an "industry"–it's a business. You must be absolutely passionate about your project. If you are not passionate about your project, this will come through to the film executives to whom you are pitching, submitting your work, and so on. Develop a tough skin so you are prepared for rejection, and surround yourself with experienced people who are as passionate about your project as you are. Immerse yourself in the business, read the trades and network, and continue to write and improve your writing.
Finally, when engaging in any business arrangement, get a contract and make sure your rights and expectations for the project are clearly spelled out. Don't submit your script to anyone unless it's absolutely ready; if you're sick of rewriting or believe that just because bad movies will get made, mine is good enough to send now—be prepared for a quick rejection of your work. Your script is your calling card; it represents your talent and hard work, so take your time and write the best script you absolutely can.
Do you have any advice for non-fiction writers?
This advice is similar to what I offer to screenwriters. Just as in screenwriting, when you are developing your characters, plot and settings, know your subject matter and do thorough research. Do not submit your work for consideration to anyone unless it is absolutely ready to send. Make sure that you have someone (preferably a professional) provide you with objective feedback and not only be open to criticism, but be willing to take the time to make any necessary revisions.
What do you know now that you wish you knew when you first started writing?
I wish I knew more about the business of screenwriting and that the film industry is named "industry" because it is indeed a business. I learned that being a professional writer and screenwriter means feeling confident about expressing one's expectations and visions, in order to create a more productive and creative work environment, and not to be afraid to ask for a contract (which is an absolute must). Trusting your gut instincts are important and if someone wants to enter into an agreement based on only a handshake or oral agreement, remember the adage that a handshake is only as good as the paper it's written on.
Tags:
Character Development
Savvy Characters Sell Screenplays
Screenwriting
Su-City Pictures
Susan Kouguell
The Savvy Screenwriter
Writing