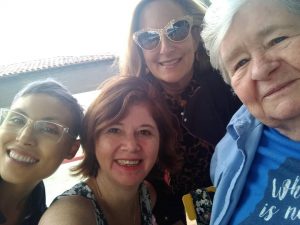 On Wednesday, September 5, we held the September 2018 meeting at our new location: Caffe Luxxe in Brentwood. The space is nice and low-key, especially after the lunch rush passed. We relocated outside before getting onto the business of goals.
Whether you had a productive, fun, or lazy summer … or all of the above now is the time to ramp back up in order to finish the year on a strong note. Remember, it's fine if your goals have changed through the course of the year. However, since I want everyone to have at least one win this year, I asked everyone to share a goal for the end of the year. The projects are as diverse as the people who attend out meeting, but everyone is working on something exciting,
Btw, post your September Goals on Write On Online or weekly goals on Facebook to be entered in a drawing to win a book from Michael Wiese Productions.
Watch the video from the September Meeting and hear about our end-of-year goals:
And watch for my spontaneous videos on the Write On Facebook page.
The next LA meeting is on October 3 at Caffe Luxxe on San Vicente in Brentwood. Our meetings will now start at 1:30pm. RSVP on Facebook.
What is your big end-of-year goal? Please share in the comments. #WriteOn
Tags:
Goals
Recap
September Goals
Write On! Meeting