Who is up for writing a 100-page script in 30 days? Impossible, you say? Not. April is Script Frenzy month … and it will be here before you know it!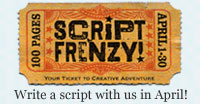 Script Frenzy isn't a contest, it's a challenge. If you've ever said to yourself, "I should write a screenplay," then this is your chance to just do it.  Shut up, put your fingers to the keys and pump out a script. I dare you.
But let's put Clint Eastwood aside here and dig into the site.
How can you achieve this, and more importantly, what kind of support does Script Frenzy offer?
Founded by the Office of Letters & Light, which also does November's National Novel Writing Month, Script Frenzy offers a way for those participating in the challenge to connect with each other and lend support. To me, that's the most valuable use of their website. See how your "buddies" are progressing and cheer each other on. If for no other reason than that, it's worth setting up a username. If you are participating this year, please post your username/link in comments, so the Write On! Community can cheer each other on!
But beyond the roar of cheerleaders, the site provides forums where you can post questions to all who participate. Topics range from formatting scripts and screenwriting basics to the task of rewrites after the marathon writing session is over.
Still not sure you have a screenplay in you?
Then use the 100 pages to write a stage play, short film, TV script, radio script, or graphic novel. You can even adapt your NaNoWriMo novel for the screen.
Somewhere in you is a story to tell.  Your job is to drag it out of your creative brain and muster the courage to write it.
Uh oh, perhaps having so many choices scared you. No fear. There are resources on all of the options on the site too. Get formatting overviews, worksheets to help you outline, and advice on creating great characters and writing dialogue. Learn the Five Screenwriting Pitfalls, get a "Hollywood Formula" Worksheet, and explore what it takes to write great comedy. Check out the resource section, regardless of whether or not you take on the challenge.
My advice: Before deciding if you're up for the 100-page challenge, tour the site and see what others say on the forum boards. Explore, dabble, and dip in your toe.
You might find out you have what it takes to be a screenwriter, or at least learn something about the craft … and yourself.  If you're a novelist, start with adapting one of your works. If you've only written spec features, try a TV show. Whatever it is, use the challenge to stretch your mind to the possibilities only a new goal can provide.
Regardless of your motivation, Script Frenzy site provides similar support to your Write On! Online community … though this support is specifically screenwriters, sleepwalking through the month of April, as they go from FADE IN to FADE OUT.
Remember, post your username/link in comments, so the Write On! Community can cheer each other on! And post Script Frenzy as your April Goal.
Get your frenzy on.  I double-dog dare you. 
5 Purple Pencils

Read Jeanne Veillette Bowerman's review of National Novel Writing Month here.
Tags:
Jeanne Veillette Bowerman
NaNoWriMo
National Novel Writing Month
Screenplay in a Month
Screenwriting
Script Frenzy
Write On! Online