Arthur, the 1981 romantic comedy with Dudley Moore, Liza Minnelli, and Sir John Gielgud, is the story of an irresponsible, very wealthy and most-often drunk playboy who is to marry a woman he doesn't love, or lose his millions, when he meets and falls in love with another woman. When billboards started appearing for the remake that earned the original Oscars for Gielgud and the theme song by Christopher Cross, I was skeptical the story could be successfully updated. I was pleasantly surprised after watching the amusing and engaging 2011 Arthur.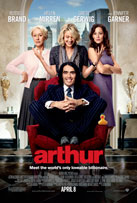 Actor/comedian Russell Brand's Arthur Bach in the recently released Arthur has been hilariously updated to reflect the excesses of today's culture obsessed with celebrity and wealth, where the media object du jour is caught in compromising situations. The new Arthur is unrestrained, but he isn't a complete hedonist. When a reporter questions Arthur's ways in light of a recession, Arthur heads to an ATM and gives out cash to the masses.
Brand's Arthur also is extremely funny and very sweet. While we may have found Moore's stumbling drunk endearing, Moore's lines really weren't that funny. This Arthur may be a drunk (who gets clean and sober by film end), but he's damn clever, funny, and original. Brand and his witty lines carry the film, along with New York City and the famed Grand Central Station, which play prominent roles. Dame Helen Mirren adds the appropriate level of British propriety as Arthur's nanny (the Gielgud butler role in the original).
A substantial Nick Nolte plays dad to a gorgeous Jennifer Garner, appropriately malevolent as Arthur's fiancée. Along with Nolte, Luis Guzman (Arthur's driver) delivers more comedy to this remake. Fresh-faced and natural Greta Gerwig (Naomi), an indie-film actress who is a relative newcomer to the big screen, plays the love interest to Arthur and plays it sweetly and innocently. Naomi is an unlicensed tour guide who loves her city, but also turns out to be a talented storyteller—a better spin on the love interest than Minnelli's tie thief and aspiring actress.
For some unfortunate reason though, Gerwig is attired in baby doll clothing (anklets, heels and too short clothes) for the first part of the film. Fortunately, this improves as the film progresses, but this wardrobe is a bit of a mystery. It's not even homage to Minnelli's attire; it's significantly worse. That's just one of the misses in the film. In the Moore version, the planned marriage scenario works for the time period. Not so much now. The screenwriters could have worked a little harder at making the marriage line plausible.
However, I easily overlooked the storyline and clothing shortcomings, because I laughed all the way through Arthur. And really, isn't that enough from a light comedy?
Film remakes seem like an endless source of potential ideas for screenwriters. The two Arthur films are good to view back-to-back as a "case study" to "compare and contrast" and see how an old story can be updated (where successfully and where not) and how the new version lines up right to the scene from the original in some cases.
4 of 5 Purple Pencils
Arthur
Dudley Moore
Maria Fotopoulos
Movie Review
Russell Brand
Write On Review
Write On! Online