The Man Who Is Machete by Melody Lopez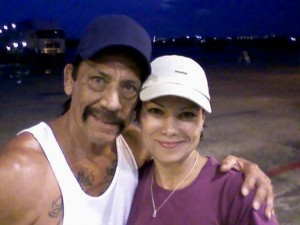 "I love chicks with guns!" Danny Trejo bellowed to me when we met on the set of Machete. My weapons background had impressed him, and I was glad to be on his good side. Trejo is, after all, an actor famous for playing heavily armed characters with mind-boggling knife-skills.
Trejo's title role, Machete, was introduced to audiences in a faux trailer to Grindhouse, a Quentin Tarantino/Robert Rodriguez collaboration. The voice over from the trailer boasts, "If you are gonna hire Machete to kill the bad guy, you better make damn sure the bad guy isn't you." Double-crossed, Machete has an axe to grind, or, more appropriately a machete. The B-style feature allows Danny Trejo to do what he does best: play a man on a dark mission. This mission, however, hides double crosses and reversals that are not at all as they seem, just like Trejo.
On screen, Trejo can look downright frightening when he scowls or furrows his brow. In real life, his smile beams and his manner is genteel. He's skilled to be able to internalize the darker qualities of the human condition when cast as the henchman.
I was scooping potato salad out of the cooler bin when I first met Trejo in the snack trailer on the lot of Troublemaker Studios in Austin, Texas. He introduced himself and offered me a firm handshake. Knowing he was the star of the production, I tried to give him personal space. He engaged me in conversation anyway.
I naturally started to babble about being from New York. I would have continued my saga all the way to how I ended up in Texas, but his posture subtly expressed confusion about my response to his simple, "Where are you from?" I shifted gears and summarized how I had more than 100 hours in firearms training and was interning with the weapons specialist. This won his favor. After that, whenever he'd see me on set, he'd give me a hug. It was surreal, but nice.
The next day on location in East Austin, Trejo and I had breakfast together. He ate fruit, while I chomped down oatmeal. We chatted between bites.
I shared that both my parents emigrated from Puerto Rico to New York, where they met, and how they were proud to have been born United States citizens. Trejo was fatherly when he pointed out, "But they still had to fit in when they came to the United States." Ah, just like "West Side Story," which serves as a time capsule for that very subject matter. I mentioned how my father enlisted in the Marine Corps when troops were integrated, and explained that his military ties influenced my interest in firearms at an early age.
I finally got up the nerve to ask why he was so open and willing to mingle with the crew. He said a movie couldn't happen without everyone; he didn't think one job was more important than any other. "But you are famous," I said. "You are the star." "Fame is a funny thing," Trejo said. "You have to remember all the hands you shake on the way up will be attached to all the same butts you kiss on the way down."
Trejo's inner light eclipses his star power. His accessibility paled in comparison to watching him interact so tenderly with his daughter Danielle and son Gilbert. Both seemed well adjusted, unspoiled, and completely comfortable on set with their father. Trejo brightened every time Danielle was around him and he would willingly pose for pictures she wished to take. It was sweet.
I watched Gilbert act in a scene with co-star Daryl Sabara, the young lead from the Spy Kids series. My heart melted each time Trejo fixed his son's hair between takes. I imagined what words of encouragement he may have whispered to his son and wondered how much I would achieve if my father were to love me the way this great actor loves his son.
My last day on set, I left a card with the van driver for Trejo. I wrote how I hoped Machete would enjoy a following similar to El Mariachi, and wished him success in continuing to play the leading man. After getting to know this scary-looking dude and discovering what a sweetheart he is, I learned to never to judge a book by its cover. Trejo's not bad. He's just cast that way.
* * *
Machete opened nationwide on September 3. Read Melody Lopez"s interview with Alvaro Rodriguez, who co-wrote the screenplay with Robert Rodriguez, on Blake Snyder's Save The Cat.
Tags:
Alvaro Rodriguez
Danny Trejo
El Mariachi
Machete
Melody Lopez
Robert Rodriguez
Save The Cat
Write On! Online