Tom Jacobson is one of Los Angeles' most acclaimed and prolific playwrights. Two different theater companies—the venerable Ensemble Studio Theatre/LA and Circle X Theatre Company—will be opening two new plays by Jacobson this weekend, next door to one in another in the same complex.
Jacobson has had more than 70 productions of his plays in L.A. and around the country. He has been a co-literary manager of The Theatre @ Boston Court, a founding member of Playwrights Ink, and a board member of Cornerstone Theater Company. He teaches playwriting and related courses for UCLA Extension.
What do the first race riot in Los Angeles and gay life in steamy New Orleans have in common? Each is the subject of a new play by Tom Jacobson. Circle X Theatre Co. presents Jacobson's The Chinese Massacre (Annotated), opening April 22, and Ensemble Studio Theatre/LA presents House of the Rising Son, opening April 23, both at the new Atwater Village Theatre, where the two companies offer a joint season in 2011.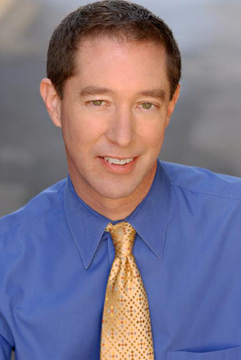 How does it feel to have two of your plays open simultaneously?
A little embarrassing—my playwright friends are calling me a lucky bastard. But of course it's thrilling to have two shows at two of LA's best intimate theatres.
How did that happen?
The way most nice-things happen: through friendships. Circle X Theatre Company produced my play, Sperm, several years ago, and I stayed friends with the folks there, including Artistic Director Tim Wright. In 2007 Circle X applied for a grant from the Los Angeles History Project to commission a play about LA history, and Tim asked me to present some ideas. I consulted with the Seaver Center for Western History Research at the Natural History Museum of Los Angeles County (where I work), and they suggested more than a dozen LA history topics that hadn't been treated dramatically. I took my favorites to Circle X, and we agreed the Chinese Massacre was the best choice. I wrote the play, which was presented as a workshop at the Autry Museum in 2008 and had another reading at Circle X in order to develop it further. In the meantime, Circle X received a National Endowment for the Arts grant to produce the play, so Tim committed to a full production. I got to know Gates McFadden when we were Co-Artistic Directors at Ensemble Studio Theatre-LA a couple of years ago. EST-LA is known for its new play development, and had done readings of a few of my plays—Gates was especially fond of House of the Rising Son. But the most interesting development was when I introduced Gates and Tim to each other and they decided to share the new Atwater Village Theatre space. And since both theatres wanted to produce a play of mine, they decided to do them simultaneously, which sounds kind of crazy but has been great fun.
How do you approach the blank page?
With a 10- to 15-page outline. I spend weeks or months jotting down notes about a play idea, then organizing those notes into a formal outline. Once I've got that, I plan for a long holiday weekend to begin writing dialogue—the fall is always a good time because Labor Day, Columbus Day, Veteran's Day, Thanksgiving, and Christmas fall in rapid succession. The outline allows me to focus on the pleasure of drafting dialogue because the hard work of structuring the play is already done. The fastest I've written a full-length play this way was one week, and the longest was about four months. Usually I manage to turn out a first draft in a month or two.
How does a play go from concept to performance?
Once I have a first draft, I bring it to my playwrights group, Playwrights Ink. They provide a very perceptive critique that encourages me to rewrite. Then I send that next draft to director friends for their feedback, as well as to some theatres. If none of them volunteer to host a reading of the play, then I usually gather a group of actor friends just so I can hear it myself. After a reading or two, I usually do another rewrite, often in collaboration with a director if one is especially passionate about the play. The director also helps me market the play to theatres—it's much more powerful than me shopping my own work around. Sometimes actors will do the same if there's a great role for them in the script. And I have a number of artistic director friends in town who are willing to read my latest stuff. I've written 51 full-length plays and so far 25 of them have gone on to production—so I usually assume I'll write two plays for every one that gets produced. Even those that never get produced are an important part of my writing process, experiments that teach me something I'll use again, probably more effectively the second time, in a play that's more likely to get produced.
Once a theatre commits to a play, I work on additional rewrites, usually with the director giving notes, and casting and rehearsal offer more opportunities to refine the play. Really smart actors also make important contributions to the development of the text. Bad actors usually inspire me to cut lines or even scenes–nothing reveals the weaknesses of a script like mediocre acting!  Rewrites sometimes take place all the way through previews. In a rather frightening example, Robert Mammana had an excellent rewrite suggestion on the morning of the day we opened The Twentieth-Century Way at The Theatre @ Boston Court last year. The director, Michael Michetti, and I agreed on the idea, I tweaked the wording, and Michael rehearsed it with the actors at 6 p.m. before the curtain at 8 p.m.
What inspired you to first start writing plays?
I was one of those bad actors I mentioned. I went to Northwestern University to study acting, and I was surrounded by actors much more talented than myself, and I realized I was better at writing plays for good actors than degrading the work of other writers by appearing on stage myself.
You seem to have a historical element to your plays? How did that develop?
History is taught so badly in our country that I've always studied history independently to bridge my own mental gap. Although the world is always changing (especially quickly these days), human beings still retain traits, thoughts and feelings from decades, centuries, even millennia past. So the emotions of people in ancient India, the Roman Empire, the court of Elizabeth I, on a whaling ship in 18th-century France, and early 20th-century Long Beach can still touch us and teach us today. Certainly the mob violence of Los Angeles in 1871 was repeated in 1943, 1965 and 1992, right here in our city. So the past illuminates the present and can even reveal the future.
Also, playwrights are encouraged to write what they know, which means a majority of plays are set in the present. So—paradoxically—by writing about the past, I'm more likely to create something people haven't seen before.
Is it important for a playwright to have – or not have – a niche?
I'm sure I'd be more successful if I had a discernible niche. You know what you're getting with a Eugene O'Neill play, a Neil Simon play, or a Neal LaBute play. I'm remarkably inconsistent in that I mess around with different styles and topics (Bunbury was a fake Oscar Wilde play, The Beloved Disciple was fake Shakespeare, and Making Paradise was a musical). More important than a niche is to write what excites you. If you're not thrilled to be doing it, it will certainly bore anyone else.
What is your favorite part of being a playwright? The greatest challenge?
Writing dialogue is the greatest pleasure of being a playwright. That's when miracles occur, gifts from God. I love the magic of opening night, when an audience laughs or is shocked into silence. But that's not nearly as thrilling as the moment of discovery when the dialogue flows from you for the very first time.
The greatest challenge is getting your plays produced. I even teach a class on the topic for UCLA Extension, but with my 50% strike rate I clearly don't have the definitive answer!
What are common mistakes new playwrights tend to make? And how can they be remedied?
One common mistake is thinking that your life and experience are so interesting that other people will want to see a play about you. Your experiences should influence and color everything you write, but no one wants to hear about your relationship problems, your terrible job, or how tough it is to make it as a writer in LA. But go ahead and write those personal experience plays if that's what you're passionate about, get them out of your system, and then write about something else. The solution to any writing problem is to just write more. The experience of writing (and producing) a play is the best teacher you'll ever have.
Additional advice for playwrights?
See as many plays as you can. LA is a great place to do that.
Get to know as many good actors, directors and playwrights as you can. They can help you get your plays produced and help make them good.
Experience life and read a lot. Travel, eat, study, stay healthy, exercise, sleep, have sex—do everything you can to service yourself as a play-writing machine.
Get a day job that pays the bills, is enjoyable in some way, and doesn't sap your energy too much.
Forget about Hollywood. If you really want to be a screenwriter, write screenplays.
What do you know now that you wish you knew at the beginning of your career?
As a permanently emerging playwright, I feel like I'm still at the beginning of my career. Still a lot to learn. But I wish I knew when I was 22, the importance of friendships in the theatre. It's through long-lasting relationships with talented theatre professionals that I've had the most satisfying artistic experiences.
Tags:
Atwater Village Theatre
Author Q&A
Debra Eckerling
House of the Rising Ron
Los Angeles
Playwright
The Chinese Massacre
Tom Jacobson
UCLA Extenstion
Writing Plays