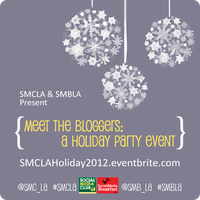 Tonight, I will be moderating the Blogger Panel at the Social Media Club Los Angeles and Social Media Breakfast Los Angeles Holiday Party.
The panelists are Jessica Gottlieb; Curvy Fashionista Marie Denee; Brigham Yen, DTLA Rising; and Charlie Capen, How to Be a Dad. The event was coordinated by publicist and blogger AJ Feuerman.
For today's Q&A, I thought it would be fun to ask our bloggers some questions:
Why do you love blogging?
Jessica: Blogging has given me the opportunity to meet heads of state, travel internationally, and provide for my family without having to leave them. There's a richness to many local relationships because of blogging, and I like to think that I've been able to give back.
Marie: I love blogging because of its freedom. The passion to affect change. The choice to speak up and out. The revelation of resources and community. As a fashion blogger targeting a niche audience, it is more important for me to be of service and to help motivate, encourage, or inspire others to love themselves, uncover and break through personal fashion barriers, or find new haunts to feed their passion for fashion!
Brigham: I love blogging because of my passion for Downtown LA revitalization. I feel that getting the info out there helps fuel the momentum for further economic development growth in Downtown LA.
Charlie: I love blogging because I consider it a form of artistic expression and release. It's the equivalent to writing a play in lieu of a film or television show. The narrative and creative possibilities and endless, the reactions immediate and you get to connect with people in ways that weren't technically available before. National borders are irrelevant and cultural distinctions, moot. The experience is a human one, full of humor or insight or pettiness.
AJ: Because it is something that is all mine. My blog is all about me, my personality, my aesthetic, my sense of humor, my idiosyncrasies … It is something I do for myself first, and frankly, for my readers second. I realize how that sounds — but it is my hope that by being myself and doing it for myself, the readers respect me more. It's a rare opportunity to be selfish and not feel guilty about it. And also, it's a creative platform of my own making. My own little democracy!
What's your best piece of advice for bloggers?
Jessica: You'll need to stand behind all of your words. Choose them wisely.
Marie: You never know who is watching you. Opportunities have come to me through my social media channels. Certain people were watching me and not from the corporate accounts, but their personal ones. How you speak to others, those rants you have, the bashing you do, others are watching. You can always say what you want, but you have to be careful as it can get you or cost you an opportunity.
Brigham: Blog about something you're passionate about because people can read right through something contrived.
Charlie: My favorite piece of advice is about focusing on building platforms that support your main venture. You need to provide the audience with a "pick your poison" choice of social avenues. It's a lot more management but each network grows and evolves, which allows the author to learn about their community and grow with it.
AJ: As a publicist, my favorite piece of advice to bloggers is quite simple — make your contact information visible. Don't use forms! When I want to work with a blogger, I don't want to spend too much time finding an email address for them. After a few minutes of looking, I'll just move on and you've missed your opportunity so don't hide! If spam is a concern, create a gmail for your blog. No excuses!
Watch for tweets and pics. If you are not in LA, you can follow the hashtags #SMCLA and #MeetTheBloggers.
Tags:
AJ Feuerman
Brigham Yen
Charlie Capen
Curvy Fashionista
DTLA Rising
Event
How to Be a Dad
Jessica Gottlieb
Marie Denee
Meet the Bloggers
SMBLA
SMCLA