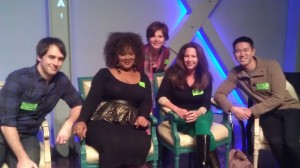 On Tuesday night, I moderated the Blogger Panel at the Social Media Club Los Angeles and Social Media Breakfast Los Angeles Holiday Party, benefiting Invisible People. Thanks to the sponsors, the teams at SMCLA and SMBLA, event coordinator AJ Feuerman, and everyone who attended. There was good food, great friends, and spirited conversation. We had a blast!
Earlier this week I posted a Write On Q&A with panelists Charlie Capen, How to Be a Dad; Curvy Fashionista Marie Denee; Jessica Gottlieb; and Brigham Yen, DTLA Rising, along with blogger/publicist AJ Feuerman. Here are some of the tips tweeted during the panel:
Ana Lydia O-Monaco @latinaprpro
If you thinking that blogging is therapeutic get a journal – @jessicagottlieb #smcla – AMEN #llblog
A.J. Bellarosa @JaumePrimero
If you are passionate about a particular subject, start a blog. You can make history, and tell your story. @brigham #smcla @smc_la
Vickie Bates @NoBadLanguage
'Share UR unique perspective – UR passion will bring readers to UR blog' – #SMCLA blogging panel.
Jessica @jessiemwilson
"Blogging is like the wild, wild west…it is what you make it" @MarieDenee #SMCLA
LadyLUX @ladylux
"Being involved in the community your niche is in is one if the most important things" @howtobeadad #SMCLA
A.J. Bellarosa @JaumePrimero
Should businesses have a blog? If you can give your company a voice, it is a great opportunity. @charliecapen #smcla @smc_la @smb_la
Vickie Bates @NoBadLanguage
Brands should skip blogging if they don't have resources to do it effectively – @JessicaGottlieb at #SMCLA blogging panel.
Elias Kamal Jabbe @Elias213
I like http://EmpireAvenue.com; it allows you to reach new #audiences & is not time-consuming.-@JessicaGottlieb #smcla http://pic.twitter.com/P5DE6zKG
Sarah Beth Rosa @sarahbethrosa
How to get people to click your pins. Give them what they want! Style, infographics & more. Says @mariedenee #smcla #smbla #Pinterest
Vickie Bates @NoBadLanguage
Social media success is about consistency. U can't try a platform for a month and then give up – @brigham at #SMCLA blogging panel.
SMB Los Angeles @SMB_LA
"Find the other people who are writing about what you're writing about is how you promote" #community #smbla #smcla
Vickie Bates @NoBadLanguage
'Ask questions. Ask for feedback. Do calls to action to engage UR community on social media' – @WriteOnOnline at #SMCLA blogging panel.
Alice Fuller @Sheersocial
Blogger panel advises to learn the differences tween social platforms and how audiences differ on them #smcla
Monica Curca @peaceforsale
of course every social media site has different rules of engagement. If ur a NATIVE you know them. If your not be an anthropologist #SMCLA
Elias Kamal Jabbe @Elias213
My mom taught me not to accept "No" for an answer.-@MarieDenee #courage #EntrepreneursExplained #smcla http://pic.twitter.com/GIM8mlrh
Tags: AJ Feuerman Blogger Panel Blogging Brigham Yen Charlie Capen Debra Eckerling Jessica Gottlieb Marie Denee SMBLA SMCLA Write On! Online