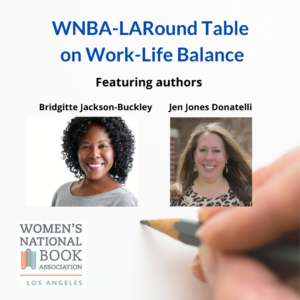 WNBA-LA invites you to take part in a round table conversation on an essential topic:
Work-Life Balance.
Bridgitte Jackson-Buckley
is the author of "The Gift of Crisis," a memoir which chronicles her story of identifying the underlying purpose of the ongoing financial crisis and the meditation practice which helped to overcome the crisis. Learn more at
bjbuckley.com
Jen Jones Donatelli is a full-time freelance writer and editor whose work has appeared in publications such as REDBOOK, Los Angeles Confidential, Variety, Robb Report, Thrillist, Budget Travel, Playboy, and many more. To date, she has authored more than 75 books on a work-for-hire basis for Capstone Press and Enslow Publishing. She is also editor-in-chief of Edible Cleveland magazine.
* * *
When: June 24, 7pm PT
Where: Zoom
Register and get more information.
This event is free for members and $10 for non-members. 
The Los Angeles Chapter of the Women's National Book Association brings together individuals with diverse backgrounds to exchange ideas, focus on issues, network, and support the local book community. In an effort to advance knowledge of the world of book publishing and related fields, we welcome, encourage, and educate people from all areas of the book industry, particularly women.
Learn more: https://www.wnba-la.org/about/
Tags:
Debra Eckerling
Events
Jen ones Donatelli
Webinar
Women's National Book Association - Los Angeles
Work-Life Balance