Write On! The New Year & New Worlds of Story
by Patrick A. Horton, PhD, The Story Coach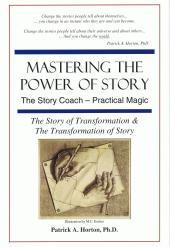 There are great teachers of story who point out that a key moment in any narrative is when the world opens up in a 'gap' and behaves in some way that is unexpected, unwanted and, in a great story, potentially costly and threatening. As the great Robert McKee points out, this is when the real character of a character shows up as out-of-the-ordinary challenges call one out of the familiar reality and habitual patterns that can run on automatic pilot. He even more astutely points out that when this happens, it is human nature to do or change as little as possible given one's understanding of the situation.
Brilliant as this is, the core sounding of any story is not just the 'how' a character will put out inadequate to irrelevant effort in dealing with the situation until it becomes clear that will not work, but what drives them to do so and resist or fail to make needed changes. More important still, beyond the things a character will need to learn and do to survive some challenge or achieve some goal, are all those things they must let go of, shed, and leave behind to take on the needed levels and kinds of action and related shifts in beliefs, behaviors needed to survive and thrive.
These often include of course some or all of those things that not only allowed them to 'understand' and navigate the world before the challenges or 'gap' showed up to begin with, but those they (and we) thus more urgently most wish to call into play to deal with it and its unknowns. Life and story always demand stepping into the unknown.
We get stopped in life and story not only by what it is we do not want to learn or know how to do, but by what we must outgrow and step out of. This last part is the real challenge and generally ignored element in the story of our lives and the life in our stories. The new complication in this is that constant change is becoming the new normal – meaning we increasingly do not have an ordered world for a 'gap' to open up in to begin with. Rather, the world has become or is becoming one seemingly endless 'gap' in any alignment with our expectations or understanding of it as they are all in such flux.
The great upside in all of this (and the related explosion of new technologies, media neural networks, and unprecedented platforms and venues for story and storytelling of all kinds) is the way it brings home several facts or challenges in a world caught up in such rapid change that there seem to be no reliable expectations, boundaries, or behaviors.
First of all, it brings into relief the fact that we are all storytellers in life and in everything we do.
Secondly, for all of us who see ourselves as part of any kind of traditions as communicators or change agents, it brings home that our working arenas and audiences have historically new and greatly different needs and interests to be expressed and addressed than in even the recent past.
It reminds us that we need a new and evolving shared language that allows us to realize in our individual minds and then our collective efforts in the world the stories and strategies we seek to live and make real in life, media, art, and commerce – all with an understanding they are all converging and merging in alternatively potentially devastating or new and wonderful ways that are all tied to the mastery of story.
Most of all, it brings up whole new and potentially wonderful worlds in which story in all of its forms can be created, sold, and used to shape the world for those willing to step into the breach.
Have a happy new year and wonderful new worlds of story.
Listen to Patrick Horton on the Write On Blog Talk Radio March Meeting.
Also: Mastering the Power of Story: The Story Coach – Practical Magic workshop is January 5 and 6 at the Beverly Garland Hotel, North Hollywood, CA. A weekend celebration of story, craft, collaboration, and success, co-sponsored by The Scriptwriters Network and Write Brothers, Inc.Pre-Registration Required.
Tags:
Happy New Year
Patrick Horton
Story
The Story Coach
Writing