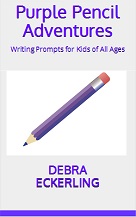 Start the school year off right with Purple Pencil Adventures: Writing Prompts for Kids of All Ages, and young students will stay enthusiastic about writing all year long.
The inspiration-packed Amazon ebook by writing coach Debra Eckerling enhances any writing curriculum, whether a home-schooling program or a traditional classroom.
"Now more than ever, strong communication skills – both written and verbal – are essential," says Eckerling. "When kids learn to express themselves in a coherent manner at a young age, they can and will thrive in school, business and life."
Although geared to pre-teens, all ages can benefit from the book from early readers to adults.
"As a tutor of English as a Second Language, I loved this book," says author Carolyn Howard-Johnson, The Frugal Editor. "I think it would be helpful for teachers and tutors of students in about any age range, but my adult students liked it a lot! It's creative with plenty of variety."
To ensure school-ready success, Eckerling is now offering a back-to-school special to download the ebook regularly priced at $4.99 for free on August 22 and 23. She released the book in June with enthusiastic response from kids and parents alike.
"Purple Pencil Adventures prompts kids – or kids at heart – to dig deep-down into their imaginations and write," says Jennifer Ballard, managing editor at My Kids' Adventures. "I'm excited to share this with my son, who is a reluctant writer."
Eckerling starts Purple Pencil Adventures with an introduction to journaling to instill the habit of putting pencil-to-paper or fingers-to-keyboard each day. Her prompts are short questions intended starting points for writing – and getting juices flowing. The book has 30 creative and 20 seasonal writing exercises. There's also a section on how to create prompts.
The exercises are written simply with lots of room for interpretation. Topics range from sports and self-esteem to talk shows and treasure hunts. There are writing prompts to engage the senses, too.
Because tablets and smartphones are staples in so many American households, Eckerling's distinctive ebook helps parents turn waiting in line or being stuck in traffic into a learning opportunity with these portable prompts.
Kids love to play make-believe or tell stories about their own adventures. In her book, there is no right or wrong way to tell a story. The advice: just write it.
Above all, Purple Pencil Adventures is designed to inspire joy, creativity, and a love of the written word.
Tags:
Debra Eckerling
Kids Writing Prompts
Purple Pencil Adventures
Write On!
Write On! Online
Writing
Writing Prompts