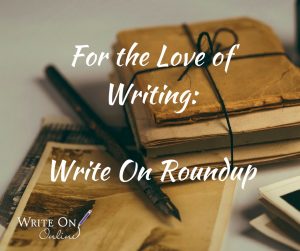 I felt a love of writing from a young age. It was fun to make up stories and share them. Back then – through high school – fiction was my thing. And, while every now and then I get tempted to dive into another novel or screenplay, I find more of a kinship to non-fiction.
I love sharing tips, other people's stories, and even my own sometimes. But, most of all, I love providing a venue where people can share, get support, and connect.
Here's what several members of the Write On community had to say, when asked why they love to write.
To Create
"I love to create something where there was nothing." – Richard Dunn
"To create a long term record of what I value and believe that hopefully can inspire and bring direction to others." – Mike Gingerich
"I like to write novels because I love finding my way into the imagined world and then figuring out the best ways to represent that story. It's addictive in that the more I'm there, the more I want to be there." – Deborah Emin
"[I write] fiction because I love to create the stories from simple facts of science fiction to historical romance to action drama with fictional governments." Daniel Escurel Occeno
"You create a new reality that has never existed before and is fully yours." – Joe Giambrone
To Tell Stories
"I see a story in my mind's eye, and I want to try my best to capture in words the mental movie I have playing. I especially seek to use poetic language to capture in as few words as much meaning as I can to the reader." – Sky Hall Ainsworth
"Writing brings out the storyteller in people – and allows for well crafted, dark research, to see the light of day." – Roger Marsh
"I love getting the story out. I can't not write. I love researching, too." – Dianne G. Sagan
As Catharsis
It releases pent up energy from my mind, body & soul. – Bobbi Annicks
To Communicate
"I've always written better than I speak and I love getting in touch with that side of me. The side of myself that can express all emotion, use the skills gained in school and put no filter on my thoughts." – Mandi Pimental
"I love finding a compelling way, through fiction, to effectively communicate a powerful emotional experience or social argument." – Kristen Tsetsi
"I love to share insight with people who are seeking. Whether it's a simple how-to, or a deep introspective piece about overcoming challenges, it's very rewarding when I come across these in someone else's writing. So, it feels good to be able to do the same for others." – Beth McGee
The Journey
"I love writing because I enjoy getting into a state of flow that I don't experience any other way. And I love fiction writing because my characters come to life and take on lives of their own…almost to the extent that, at a certain point in the process, they begin to make their own decisions. I love the journey from concept to character, and it's so much fun to let the stories unfold once you reach that level of character development". – Haley Walden
For Fun
"Because it's such a good excuse to drink." – Rick Ruiz
Why do you write? Please share in the comments.
Tags:
Love of Writing
Write On Roundup
Write On!
Write On! Online
Writing