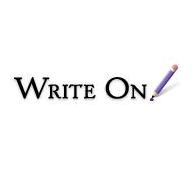 Summer was on everyone's mind at last week's July meeting in Westwood. If you missed it, read the recap and watch the video. Among other things, we discussed the need to re-focus on goals mid-year, as well as the value in taking time off this summer. With that in mind, the bonus goal is to plan some summer fun.
Keep an eye on the Write On Online Facebook Page for videos to help you plan and achieve your goals throughout the month.
By the way, I recently updated the services page on Write On Online. If you need one-on-one coaching to complete your half-finished projects or finally get started, email me to set up a session.
Remember, post your July Goals on Write On Online or Facebook (a new goal thread starts every Monday) and be entered in a drawing to win a book from Michael Wiese Productions.
Write On!
Join the Write On Online Facebook Group for writers, creatives, and entrepreneurs to chime in on the threads, share your links, and more. Today's question: "It's Wipe Out Wednesday. What do you need to eliminate from your life?" Feel free to invite your friends and peers to join too.
Author & Expert Q&As on Write On Online. Do you have a new book or an upcoming book release? Do you have an entrepreneurial, marketing, or creative specialty to share? Are you interested in being featured on Write On Online? For consideration email deckerling@gmail.com with your website link and a short bio. Thanks!
Want to be part of the next book in the Write On series? Take my goal-setting survey. I will be including data and examples from it in the book.
Upcoming Events
July 19: Carolyn Howard-Johnson will be speaking at a satellite meeting of both Independent Writers of Southern California (IWOSC) and Small Publishers, Artists & Writers Network (SPAWN) on  at 6:30 pm at Newbury Park Branch Library, 2331 Borchard Rd, Newbury Park, CA 91320. Come get Carolyn's handout on how to make Amazon's categories and ratings nudge your book sales up, up, up. The meeting is free. Learn more.
July 20: Susan Van Allen, Italy expert and author, is teaming up with Roman chef Elisabetta Ciardullo for a Summer, Italian Style evening, in Los Angeles. The event includes hands-on pasta making class, dinner with wine, and Italian Travel talk. Participants receive a signed copy of Van Allen's 100 Places in Italy Every Woman Should Go." Get details.
July 27: LAdobe presents Business Best Practices for Creative Independents: 2017 Edition from 6:30 – 9pm at Capital One Cafe in West Los Angeles. Get more information and RSVP.
August 2: August LA Hangout at C&M Coffee and Milk Westwood Gateway, 11111 Santa Monica Blvd, in Westwood from 1-3pm. C&M will validate parking in the building. RSVP on Facebook.
August 10: I will be a guest on #MediaChat at 7pm pacific. Topic: Getting Unstuck: How to Find Ideas for your Blog and Social Media. Go to TweetChat.com, enter the hashtag MediaChat, and join us.
Ongoing: On the 2nd and 4th Tuesdays of each month, writers are welcome to come to the Santa Monica Bay Woman's Club to write from 6:30 to 10pm. The club, at 1210 4th St, asks for a $3 donation. RSVP to MAnnapav@aol.com.
Write On! Members: Let me know if you have a book being released or some awesome news, so we can include it in the next newsletter. Also, check out the Write On Online Facebook Page for regular opportunities to share your books and blogs.
Plus
Need blogging inspiration? Check out my book: Write On Blogging: 51 Tips to Create, Write & Promote Your Blog. Whether you are starting or relaunching your blog, it will walk you through the process.
Check out the Guided Goals Podcast on Write On's companion site GuidedGoals.com. The podcast is a series of expert interviews, designed to help people pursue their passion projects. Each episode wraps with action items (recommended goals), so listeners can take what they heard, and move forward right away. Watch on YouTube, listen, and subscribe on iTunes, or listen on Stitcher. Season two is starting soon.
Do your kids love to write? Want to encourage them to hone and expand their writing skills? Check out Purple Pencil Adventures: Writing Prompts for Kids of All Ages.  Although it's geared towards kids, there are plenty of prompts adults can use to exercise those writing muscles! Write on!
* * *
Writers, please email me if you have a 2-3 line news item or event and/or if you are are interested in contributing a Write On! Review or Expert Column. Write On!
Tags:
Fun Goals
Goals
July Meeting
LADobe
Networking
Write On!
Write On! Online
Write On! Wednesday
Writing