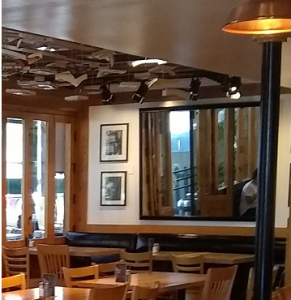 We had a lovely August meeting at Literati Cafe in West LA, complete with some new faces.
Everyone seems to be making nice progress, while finding time to enjoy the summer… though probably not getting enough downtime, Being productive is all about balance. Stop your work at a reasonable time each night, try not no work all weekend long, and incorporate fun into your life, especially during the summer months.
I asked some of our members, "What is your summer fun goal?" See what they had to say, and post your reply in the comments here or on the video.
Watch the video from the August Meeting:
Our next LA meeting is on September 4 at 1:30pm at Literati Cafe, 10281 Wilshire Blvd., in West LA.
There is nearby meter parking, street parking, and a paid lot. The cafe requests each attendee make a purchase (at least a drink).  RSVP on Facebook.
Remember, post your August Goals on Write On Online or weekly goals on Facebook to be entered in a drawing to win a book from Michael Wiese Productions.
What's your fun summer goal? Please share in the comments. #WriteOn
Tags:
August 2019 Meeting
Goals
Write On! Meeting
Write On! Online
Writing