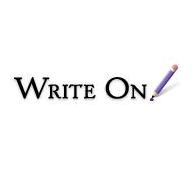 Thanks, everyone, for your support, encouragement, and enthusiasm of my new book: Your Goal Guide: A Roadmap for Setting, Planning and Achieving Your Goals from Mango Publishing.
If you love the book, please consider writing me a review on Amazon or GoodReads. Thanks!
Want to learn more about Your Goal Guide? Check out Dave Watson's interview with me on his Movies Matter website.
* * *
Post your January Goals on Write On Online and weekly goals on Facebook (a new goal-thread starts every Monday) to be entered in a drawing to win a book from Michael Wiese Productions. And for more community and conversation, check out the Write On Online Facebook Group. You can now also join the Your Goal Guide Facebook Group for tips and resources to keep you motivated and set yourself up for success in 2020.
Upcoming Events
January 23: The Basis of Acting: Recovering your Child Self
 with 
D.W. Brown
 at 7pm in Los Angeles. The most essential technique for an actor is to unlearn the techniques acquired during socialization and recover the ability to be vulnerable and in the moment with another person. Hear D.W. Brown, author of 
You Can Act
 and one of the world's foremost teachers of the Meisner Technique, discuss the obstacles and the remedy for how to once again be free to play. 
Get tickets
.
January 25:
Your Goal Guide
 talk and book event at 
Mystic Journey Bookstore
 in Venice, CA, at 2pm. One of the biggest reasons goals fail is that people often don't put enough thought into what they really want before diving in. Get tips on how to figure out your goals and put a plan in place.
RSVP on Facebook
.
January 27: The Business (and Taxes) of Writing
 panel, presented by 
IWOSC
 (Independent Writers of Southern California), at 7:30pm in Culver City. 
IWOSC
 members free; others $15. 
Get details and RSVP
.
February 1:
IWOSC Goal-Setting Workshop
 at 11am. Is 2020 the year you are going to finish your novel or screenplay, get an agent, or step up your marketing? Determine your mission and make a plan during the first IWOSC Writers Workshop of 2020.
RSVP to reserve your spot
.
February 2: #GoalChat at 7pm PT on Twitter. Topic is February Goals.
Plus
Need help figuring out what you want and how to get it? Are you having trouble starting or finishing a project? Check out TheDEBMethod.com. Give me an hour, I'll give you a plan.  To learn more, watch my appearance on Madalyn Sklar's #TwitterSmarter After Chat and on DIY Marketers pre-#BizapaloozaChat. Plus, check out Jim Katzaman's article covering my method behind "goal-setting madness." Contact me to get started.
For blogging inspiration read Write On Blogging: 51 Tips to Create, Write & Promote Your Blog. Whether you are starting or relaunching your blog, it will walk you through the process.
Do your kids love to write? Want to encourage them to hone and expand their writing skills? Check out Purple Pencil Adventures: Writing Prompts for Kids of All Ages.  Although it's geared towards kids, there are plenty of prompts adults can use to exercise those writing muscles! Write on!
* * *
Writers, please email me if you have a 2-3 line news item or event and/or if you are are interested in contributing a Write On! Review or Expert Column. Write On!
Tags:
Goal-setting
Write On Online
Write On!
Your Goal Guide