There were two fabulous Write On! Meetings in October: one original and our very first remote meeting: Write On! Midwest. What is so amazing is that we had a different dynamic in each location, and they were both wonderful experiences.
On October 7, Write On! Midwest met at Barnes & Noble in Deerfield, Illinois. I call it my old stomping grounds—I grew up in the north suburbs of Chicago, and B&N was my first job out of college—but, the Deerfield store moved down the street, and so did we. We had 7 remote members come out for the meeting—some brand new, others who had been participating on the Facebook Group.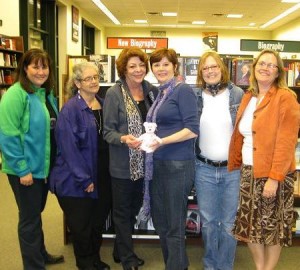 We introduced ourselves, talked about writing, and set goals for year-end. Thanks to manager Yan and our friends at the Deerfield Barnes & Noble, who made us feel very welcome. Linda from www.ChicagoHollywood.com (who I just saw in LA the week before for the Blake Snyder Memorial … and then last week at Screenwriting Expo) and Noreen were our screenwriter contingent; Jennifer and Sus talked a bit about their projects; Judy, editor of East On Central: the Highland Park Arts and Letters Journal, read a poem; and Al A Carte introduced her Food Memories project to our new friends–and requested submissions. I look forward to our next trip to "the location formerly known as home," and our next Write On! Midwest Meeting.
Back in LA…
On October 14, we had 20 members attend our regular meeting, and welcomed 3 newbies, who learned about Write On! through the LA Mediabistro parties. Welcome Debra, Shannon, and Arnie. While setting goals, several people committed to doing National Novel Writing Month in November–if you are, post your NaNoWriMo profile link on the Write On! Facebook discussion, so we can all connect and cheer each other on. We talked about writing from dreams, visualization, and experience … and more. Thanks to Robin, Stephanie, and Laurie for sharing their words with the group.
Remember, only one more tradition Write On! Meeting left this year. (December is our Holiday Party and Annual Goal Setting.) Post your goals on the Write On! Facebook Fan Page discussion (or in the comments section below) to be entered in a drawing to win a free iScript. Details on the Write On! October Challenge: Boo! Write in A Genre that Scares You! are here. Deadline is October 31st.
Happy Writing!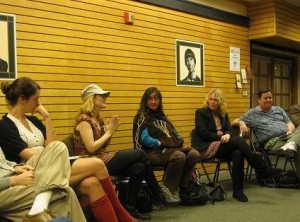 Tags:
Alexandra Anne Carte
barnes & noble
Debra Eckerling
Deerfield
East on Central
Midwest
Santa Monica
Write On!