Just in time to kick off the holidays, Write On! interviews Jeremy Greenberg, author of Relative Discomfort: The Family Survival Guide. A stand-up comic, husband, and father of twin baby boys, Greenberg has been a contributor to The Complete Idiot's Guide to Jokes (Alpha/Penguin), a contributing joke writer for Comics Unleashed with Byron Allen, and a freelancer for MSN and Atlantic Business Magazine. He is also an essayist for Pregnancy and Newborn Magazine (where he's also a blogger) and American Jewish Life Magazine.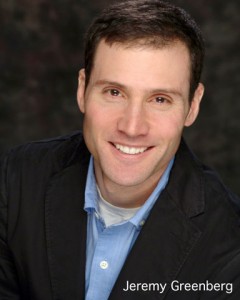 How did you make the leap from stand-up comic to author?
Well, I was a freelance writer at the time I became an author, but I moved from pure stand-up to stand-up/writer when I wrote a humor piece about a trip I took to Korea to entertain the troops.
How did Relative Discomfort come about?
I wrote a humor piece for MSN about seeing family during the holidays. An agent thought the concept had legs, so we developed a proposal and went from there.
What was your process for writing it? How did you go about getting it published?
Writing it was a very methodical process. Because I travel and have shows at night, I had to wake up, drink an unhealthy amount of coffee, and write until I was angry. Then I'd take a nap, and get up a bit later to get on with the rest of my day. I got it published the standard way. My agent kept putting it in front of the right people. A few pubs asked for some tweaks of the proposal, I tweaked it accordingly, and voila.
What was your favorite part of writing the book? The greatest challenge?
My favorite part of writing the book was continuing to push myself to develop original humor about family. It's a very well-worn subject, and I was happy when I could find a fresh angle. That, and I enjoy making fun of people who have to know me for the rest of my life. The greatest challenge was probably giving up bits that I loved, but were too edgy for the scope of the book. But that really only occurred in the interfaith marriage chapter.
How do you draw the line between writing personal and too much? How do you decide what to include and what to eliminate?
I have no line, really. That does mean that I will on occasion piss off my wife or my family. But most of the time my humor has enough love in it to keep me from getting killed.
How do you balance a family and the different aspects of your career?
It is very tough. I have a lot of minutes in my cell phone plan, and I make sure to talk to my wife as much as possible when I travel. When I'm home I take breaks to acknowledge that there are other people in the house.
How does someone write funny? Any tips or techniques you can share?
I have no idea, really, how to write funny. It's basically a personality defect that I've honed into a voice. But I think that if people study jokes and search for incongruities, then they can understand funny and add humor to their topics.
Advice for writers?
Write. Always write. It's hack-advice, but it's also true. And try to remember that very often something what seems amazing has often been preceded by several attempts that were crap. Accept that crap is the path to excellence.
What do you know now that you wish you knew at the beginning of your career?
Hmm. I guess it would've been useful to have the understanding I do now of how publishers look at the marketability of books. It can be painful to have a really funny idea only to know that the market for it might be three-and-a-half people. And that's not to say that everything I do now is with a mass market in mind. But I now know to hold off presenting my niche ideas until I've got the juice to get them through. I'll let you know when that happens.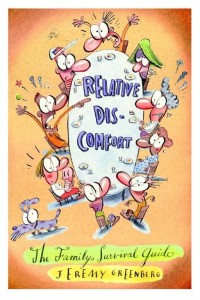 Tags:
Author Q&A
Debra Eckerling
Humor
Jeremy Greenberg
Relative Discomfort
Stand-up Comic
The Complete Idiot's Guide to Jokes