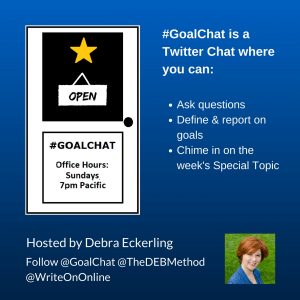 Thanks to everyone who joined us for the 5/13 #GoalChat, where we checked in on our weekly goals and discussed healthy habits.
#GoalChat takes place Sundays at 7pm Pacific/10pm Eastern to set goals, ask questions, and get support. Feel free to tweet to @GoalChat throughout the week.
And join us on May 20 for #GoalChat at 7pm Pt/10pm ET. Special topic: Business Development. Tweet topic suggestions to @GoalChat.
Below is a recap with many of the tweets from Sunday's chat.
Welcome to #GoalChat. This week's special topic is Healthy Habits @writeononline @TheDEBMethod pic.twitter.com/QzMhwuITwX

— ⭐ #GoalChat ⭐ (@GoalChat) May 14, 2018
I think I made it in time for the conversation. 🤔 @SUBWAY #GoalChat pic.twitter.com/o8pUaPD76L

— Danny Kambel (@DannyKambel) May 14, 2018
So glad I made it, two alarms on my phone and a huge sign on my planner! 😂🤣 #GoalChat

— Sabrina Cadini (@SabrinaCadini) May 14, 2018
Introductions
Introduce Yourselves: Who are you? Where do you live? What do you do? @WriteOnOnline #GoalChat pic.twitter.com/3f9BmpE7O1

— ⭐ #GoalChat ⭐ (@GoalChat) May 14, 2018
I'm Deb. I live in West LA. I am a goal coach & project catalyst. My website's @TheDEBMethod https://t.co/NzjbO2HOrW. Am the author of "Write On Blogging" & founder of @WriteOnOnline, a website & community for writers, creatives & entrepreneurs. https://t.co/BKv5f2Aw0h #goalchat

— ⭐ #GoalChat ⭐ (@GoalChat) May 14, 2018
Good evening, Jim Fuhs, SoMe Marketing Consultant, split time between Swansboro, NC and Atlanta, GA #GoalChat pic.twitter.com/xSnPO61Mds

— Jim Fuhs of Fuhsion Marketing #DSATL (@FuhsionMktg) May 14, 2018
Introduction. Hello. I'm April. West Coast creative type. Writer/Blogger. Journalist background. Freelancing it #GoalChat

— April (@aprilemaye) May 14, 2018
Intro: My name is Danny; I live in Oregon and I'm a Sports Information Director. #GoalChat pic.twitter.com/3UZf34IU6Y

— Danny Kambel (@DannyKambel) May 14, 2018
Tweeting from San Diego tonight. I'm here to support a client this week with some training. #GoalChat

— Tom Reid (@_TomGReid) May 14, 2018
Hi, #GoalChat! Tweeting from my bed, where I've spent the past two hours playing with my new Apple Watch. 🧚🏼‍♀️

— Dianna Albanese (@dialbanese) May 14, 2018
Hi, everyone! I'm a #LifeWorkBalance Strategist for #creativeentrepreneurs tweeting from sunny San Diego! I hope you all had a beautiful #MothersDay #GoalChat

— Sabrina Cadini (@SabrinaCadini) May 14, 2018
Biggest Win
Q1. What was your biggest win last week? @WriteOnOnline @TheDEBMethod #GoalChat pic.twitter.com/EtvQHmzyA6

— ⭐ #GoalChat ⭐ (@GoalChat) May 14, 2018
A2. Potential new client. And something else brewing. Ohh, and I discovered #BizapaloozaChat and will be a guest next month #goalchat

— ⭐ #GoalChat ⭐ (@GoalChat) May 14, 2018
A1: Picked up an unexpected client! #GoalChat

— Jim Fuhs of Fuhsion Marketing #DSATL (@FuhsionMktg) May 14, 2018
A1. We have a tie! Either being RT'd by the @TimbersFC at their game today OR the @goboxers Student-Athlete awards banquet. #GoalChat pic.twitter.com/8ghDkrxtPF

— Danny Kambel (@DannyKambel) May 14, 2018
A1: Had some great team-bonding conversations at work. #GoalChat

— Narmadhaa (@s_narmadhaa) May 14, 2018
Q1. Answer: that branding topic last week inspired me to spend more time on branding. I learned about some podcast technology too! Research and refine. #GoalChat

— April (@aprilemaye) May 14, 2018
A1) I had to have a difficult conversation with my boss about a colleague and despite rehearsing it in my head beforehand it still came out all wrong but instead of giving up as I usually do I tried again later and got it right #GoalChat

— AndromedaTrance (@andromedatrance) May 14, 2018
Hired from a dear repeat client for a new event, I love working with her! #GoalChat

— Sabrina Cadini (@SabrinaCadini) May 14, 2018
Goals for the Week
Q2. What are your goals for this week? @WriteOnOnline @TheDEBMethod #GoalChat pic.twitter.com/lXjPlOYErx

— ⭐ #GoalChat ⭐ (@GoalChat) May 14, 2018
A2. Deadline for a project is Friday! That's the big goal. Plus more @TheDEBMethod outreach for media & new clients #goalchat

— ⭐ #GoalChat ⭐ (@GoalChat) May 14, 2018
A2: Get my subscription option for one of my websites out to potential customers #GoalChat

— Jim Fuhs of Fuhsion Marketing #DSATL (@FuhsionMktg) May 14, 2018
A2. To buy my plane ✈ ticket for #CoSIDA18 and to see my mother.
2️⃣ To write the outline for my presentation for the @pacificu All-Staff Conference. #GoalChat

— Danny Kambel (@DannyKambel) May 14, 2018
A2) Hoping to wow the client with the work this week. And I have to polish up some charts for a full day leadership class based on the book up in Pasadena next Monday, and the one-hour free leadership webinar on the 24th. #GoalChat

— Tom Reid (@_TomGReid) May 14, 2018
A2: Planning on more team activities. It's an exciting week at work. And I'm visiting my parents later in the week—must behave. #GoalChat

— Narmadhaa (@s_narmadhaa) May 14, 2018
I'm a little behind with blog posts so I'll dedicate time to that, and I'm going to resume my #ColorYourGoals series on #Periscope. Very exciting! #GoalChat

— Sabrina Cadini (@SabrinaCadini) May 14, 2018
It's a weekly series that I host on #Periscope where I color live with my viewers and I talk about a color (psychology, positive and negative attributes, how to use it in business) – It helps with creativity, it lowers stress, and it educates on colors in our life #GoalChat

— Sabrina Cadini (@SabrinaCadini) May 14, 2018
A2. Honestly… it's to NOT buy Starbucks and save some money this week. Lmao. #GoalChat

— Dianna Albanese (@dialbanese) May 14, 2018
Q2. Answer: Working on blog post. And, I will continue to work on the branding and podcast stuff as well #GoalChat

— April (@aprilemaye) May 14, 2018
#GoalChat
A3) Sort out my broadband provider cos my internet keeps cutting out hence my late arrival tonight and to avoid anything else to do with the Royal Wedding – the country's going nuts!

— AndromedaTrance (@andromedatrance) May 14, 2018
Special Topic: Health Habits
Special Topic: Healthy Habits @WriteOnOnline @TheDEBMethod Ready? #GoalChat

— ⭐ #GoalChat ⭐ (@GoalChat) May 14, 2018
Maintaining Work-Life Balance
Q3. How do you maintain work-life balance? @WriteOnOnline @TheDEBMethod #GoalChat pic.twitter.com/LlPYlkTlOy

— ⭐ #GoalChat ⭐ (@GoalChat) May 14, 2018
A3. I think it's important to take at least one day off a week! So if I end up working all weekend, I take a week day off! #goalchat

— ⭐ #GoalChat ⭐ (@GoalChat) May 14, 2018
A3) My work is my life,so……poorly. #GoalChat

— Tom Reid (@_TomGReid) May 14, 2018
A3: I don't let my phone control me after hours and value time with my fiancée and kids #GoalChat

— Jim Fuhs of Fuhsion Marketing #DSATL (@FuhsionMktg) May 14, 2018
It has been a journey and learning experience #GoalChat

— Jim Fuhs of Fuhsion Marketing #DSATL (@FuhsionMktg) May 14, 2018
A3. Accountability and responsibility…..truthfully, I struggle with it but I'm blessed to have a great set of co-workers mainly students but also coaches and staff members. #ILoveMyJob #GoalChat

— Danny Kambel (@DannyKambel) May 14, 2018
A3: For the first time in a long time, I spent the whole of Sunday in bed not even opening my work email. I think I'll find the balance soon. #GoalChat

— Narmadhaa (@s_narmadhaa) May 14, 2018
Yes. I was just too bored to open it up. I'd been working a lot, and it just got to me. #GoalChat

— Narmadhaa (@s_narmadhaa) May 14, 2018
For me it's #LifeWorkBalance, where Life comes first then work can get done. It's more than finding hours or setting boundaries, it all starts in your body! #GoalChat

— Sabrina Cadini (@SabrinaCadini) May 14, 2018
A3. To me there is no such thing as work life balance. Your work is part of your life #GoalChat

— Cheval John (@chevd80) May 14, 2018
A3) I seem more work than life these days but I am trying to change that mostly by turning up unexpectedly at friend's houses when I have a spare hour! Luckily, I have accommodating mates #GoalChat

— AndromedaTrance (@andromedatrance) May 14, 2018
Q3: Answer. I choose balance. I schedule timeouts. If you don't life won't allow you. #goalchat

— April (@aprilemaye) May 14, 2018
I take regular breaks in my day. "Take 5" is my rule of thumb. Even the labor laws require breaks. 5 min to walk. Pray. Breathe. Dance. Listen to music. Close my eyes. Whatever feeds YOU. Do i a few times a day. It works!

— April (@aprilemaye) May 14, 2018
Handling Stress
Q4. How do you handle stress? @WriteOnOnline @TheDEBMethod #GoalChat pic.twitter.com/upAxeO1sOA

— ⭐ #GoalChat ⭐ (@GoalChat) May 14, 2018
A4. I avoid it whenever possible! Not always possible. But am a firm believer in the positive attitude! #goalchat

— ⭐ #GoalChat ⭐ (@GoalChat) May 14, 2018
A4. Dance is my best stress relief! @OldSchoolSkinny @LADanceFit @WriteOnOnline @TheDEBMethod #goalchat

— ⭐ #GoalChat ⭐ (@GoalChat) May 14, 2018
A4. Walking. This was from last night ⤵ #GoalChat pic.twitter.com/dHRM5AFeQr

— Danny Kambel (@DannyKambel) May 14, 2018
I need to get back into my routine and in shape for the #CoSIDA18 5k #FitSID #GoalChat

The photos that I've been using are from my walks. That's a stress relief, too.

— Danny Kambel (@DannyKambel) May 14, 2018
A4: I have been through many tough situations, so I just focus and realize that nothing is worth stressing out about #GoalChat

— Jim Fuhs of Fuhsion Marketing #DSATL (@FuhsionMktg) May 14, 2018
A4. If it's task-related: write EVERYTHING that needs to be done down on paper and prioritize with a list. If it's anything else: tea, fuzzy socks and a book. #GoalChat

— Dianna Albanese (@dialbanese) May 14, 2018
Agree. Listing them out and resetting priorities can help us focus on the most important tasks. And sometimes, personal care is what matters the most. #GoalChat

— Narmadhaa (@s_narmadhaa) May 14, 2018
A positive mindset, clean eating and time management are my best friends when it comes to avoiding stress #GoalChat

— Sabrina Cadini (@SabrinaCadini) May 14, 2018
A4: Not too well. I enjoy working with deadlines and tight schedules. I stress out quite a lot, but Twitter chats have helped relieve some stress for me. And reading. #GoalChat

— Narmadhaa (@s_narmadhaa) May 14, 2018
A4. The dog was just picked up so back and for me handling stress is eased by prayer and meditation for me #goalchat

— Sherry Hayes-Peirce (@trainerchick47) May 14, 2018
A4) Deep breaths; hibernation; meditation and as many duvet days as I can #GoalChat

— AndromedaTrance (@andromedatrance) May 14, 2018
Tips for Health Habits
Q5. What tips do you have for creating healthy habits? @WriteOnOnline @TheDEBMethod #GoalChat pic.twitter.com/9Pxm2E2hIM

— ⭐ #GoalChat ⭐ (@GoalChat) May 14, 2018
A5. Start small and build from there. Dramatic changes aren't always successful! #goalchat

— ⭐ #GoalChat ⭐ (@GoalChat) May 14, 2018
Yes. We often get so inspired and make major changes in our lifestyle, only to lose inspiration sooner or later. Setting realistic goals and following them in a steady manner helps retain habits longer. #GoalChat

— Narmadhaa (@s_narmadhaa) May 14, 2018
A5: Make a schedule and stick to it. I wake up at the same time every day, and it's given me a lot of time to get work done and organise my day. #GoalChat

— Narmadhaa (@s_narmadhaa) May 14, 2018
Same goes for the gym. It's so easy to blow it off if you can find last-minute excuses to not go… but if you schedule when you're going to go in advance, there's no excuse! #GoalChat

— Dianna Albanese (@dialbanese) May 14, 2018
True, always tempted by excuses… You can also exercise at home if you're short on time, @nike has a great app for that! #GoalChat

— Sabrina Cadini (@SabrinaCadini) May 14, 2018
A5: Change what you are eating, cut out sugars, sodas, and drink more water. Eat lean and green. I lost 20 lbs and have kept it off, also got me off my BP meds #GoalChat

— Jim Fuhs of Fuhsion Marketing #DSATL (@FuhsionMktg) May 14, 2018
Agree. It will be difficult at first, but once we power through the first couple of weeks, it'll become a habit. Our body and mind is incredible in adapting to change. #GoalChat

— Narmadhaa (@s_narmadhaa) May 14, 2018
A5. The only part of this question that I can address are the exercise….barely. Walk when you can. I have chosen to walk to work as much as I can. It's not that I'm afraid to drive but it saves me money and gives me 🤔 time. #goalchat

— Danny Kambel (@DannyKambel) May 14, 2018
I follow five principles every day (and I teach these to my coaching clients): 1) Eat better; 2) Sleep more; 3) Exercise regularly; 4) Love yourself; 5) Own your life #GoalChat

— Sabrina Cadini (@SabrinaCadini) May 14, 2018
A5) Frozen grapes act like boiled sweets without the calories and crustaceous vegetables like red, green and yellow peppers chopped up instead of candy snacks.#GoalChat

— AndromedaTrance (@andromedatrance) May 14, 2018
Q5b. Healthy eating habits? #GoalChat

— ⭐ #GoalChat ⭐ (@GoalChat) May 14, 2018
A5b. Cook more. Eat out less. This is my one-year @InstantPot anniversary and it's made such a difference! #goalchat

— ⭐ #GoalChat ⭐ (@GoalChat) May 14, 2018
Yes yes yes! I started collecting heavenly healthy recipes and I have them in a @trello board, always fun to cook some delicious dishes that are good for you #GoalChat

— Sabrina Cadini (@SabrinaCadini) May 14, 2018
Q5c. Exercise habits? #GoalChat

— ⭐ #GoalChat ⭐ (@GoalChat) May 14, 2018
A5c. I try to do three exercise-related things a week. Aikido Sunday, Dance Tuesday, and Walk when I can! #goalchat

— ⭐ #GoalChat ⭐ (@GoalChat) May 14, 2018
A5d. Set appointments for everything. That includes eating well, exercise, and downtime! #goalchat

— ⭐ #GoalChat ⭐ (@GoalChat) May 14, 2018
Next Week
The next #GoalChat will be on 5/20. Topic is Business Development. Tweet suggestions for future topics to @GoalChat

— ⭐ #GoalChat ⭐ (@GoalChat) May 14, 2018
Please tweet to @Goalchat throughout the week. Also connect with @WriteOnOnline on Facebook: Page https://t.co/tfJqJJxJW3 and Group https://t.co/D0VhQ2Dlop You can also connect with @TheDEBMethod https://t.co/Z1ukMAkCgL and https://t.co/qTcYgcK5It #GoalChat

— ⭐ #GoalChat ⭐ (@GoalChat) May 14, 2018
What a fun and lively chat. Thanks all for being part of it! Please continue to spread the word so we can grow this awesome community! #GoalChat

— ⭐ #GoalChat ⭐ (@GoalChat) May 14, 2018
Tags:
#GoalChat
Entrepreneurship
Exercises
Goals
Healthy Habits
Stress