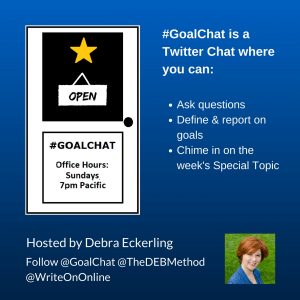 Thanks to everyone who joined us for the 5/20 #GoalChat, where we checked in on our weekly goals and discussed business development strategies.
#GoalChat takes place Sundays at 7pm Pacific/10pm Eastern to set goals, ask questions, and get support. Feel free to tweet to @GoalChat throughout the week.
And join us on May 27 for #GoalChat at 7pm Pt/10pm ET. Special topic: YouTube. Tweet topic suggestions to @GoalChat.
Below is a recap with many of the tweets from Sunday's chat.
Welcome to #GoalChat. This week's special topic is Business Development @writeononline @TheDEBMethod pic.twitter.com/tm3uzkAm6e

— ⭐ #GoalChat ⭐ (@GoalChat) May 21, 2018
Introductions
Introduce Yourselves: Who are you? Where do you live? What do you do? @TheDEBMethod @WriteOnOnline #GoalChat pic.twitter.com/aZTnxb9ucg

— ⭐ #GoalChat ⭐ (@GoalChat) May 21, 2018
I'm Deb. I live in West LA. I'm a goal coach & project catalyst. My website is @TheDEBMethod https://t.co/NzjbO2HOrW. Am the author of "Write On Blogging" & founder of @WriteOnOnline, a website and community for writers, creatives & entrepreneurs https://t.co/BKv5f2Aw0h #goalchat

— ⭐ #GoalChat ⭐ (@GoalChat) May 21, 2018
Hello. My name is April. Freelance writer|blogger. Journalist by trade. Smart, talented, beautiful 😆 #GoalChat

— April (@aprilemaye) May 21, 2018
Intro: I'm Danny; I live in Oregon and I'm a Sports Information Director. #GoalChat pic.twitter.com/U6E26Lr8gb

— Danny Kambel (@DannyKambel) May 21, 2018
I am Jon, writing detective mysteries here in Western North Carolina. #GoalChat

— Jon Duckworth (@Duck_n_Pulpit) May 21, 2018
Alarm clock's going off so here I am! Sleepily from the UK

— AndromedaTrance (@andromedatrance) May 21, 2018
Hi Everyone!
I'm Tony and I'm from Bellevue, WA. I'm currently a Brand Manager at a startup. I'm working on my personal brand to get into consulting, speaking, and more. I vlog about Twitter and video marketing. 🎬#GoalChat

— influencerTONY 🎥 New videos every Tuesday! (@InfluencerTony) May 21, 2018
Biggest Win
Q1. What was your biggest win last week? @WriteOnOnline @TheDEBMethod #GoalChat pic.twitter.com/GmR9GDssf9

— ⭐ #GoalChat ⭐ (@GoalChat) May 21, 2018
A1. Had a huge deadline on Friday, which I made with 45 minutes to spare! #goalchat

— ⭐ #GoalChat ⭐ (@GoalChat) May 21, 2018
A1. My biggest wins are the 🎓 graduation of my student-athletes at @pacificu #goalchat pic.twitter.com/ohzJrsbXYJ

— Danny Kambel (@DannyKambel) May 21, 2018
A1: I stuck to my editorial calendar and posted…on TIME! 🙌🏼🥂#GoalChat

— April (@aprilemaye) May 21, 2018
A1. Staked up tomato plants. Have 16 outlines for short stories & completed a first draft. Struggling to get through the 3 round of edits. #GoalChat

— Jon Duckworth (@Duck_n_Pulpit) May 21, 2018
A1: I send an offer letter to a new employee at the startup. It's been months of planning, interviews and more, so it's nice to have it all done!#GoalChat

— influencerTONY 🎥 New videos every Tuesday! (@InfluencerTony) May 21, 2018
A1) Taught the four day certification class for ScMI in San Diego. #GoalChat

— Tom Reid (@_TomGReid) May 21, 2018
A1 I had a bad week but the good news is that it's a new week #GoalChat @GoalChat

— Marisa Cali (@allthesocial) May 21, 2018
Goals for the Week
Q2. What are your goals for this week? @WriteOnOnline @TheDEBMethod #GoalChat pic.twitter.com/Lg4PcEyLTQ

— ⭐ #GoalChat ⭐ (@GoalChat) May 21, 2018
A2. Next deadline on the big project is Wednesday. Then, time to start working on videos. #goalchat

— ⭐ #GoalChat ⭐ (@GoalChat) May 21, 2018
A3: Stick to the calendar. Write. Post. Work on marketing. #GoalChat

— April (@aprilemaye) May 21, 2018
A2: Create a new page on my website, write 3 blog posts and finish a book I've been reading. 📚#GoalChat

— influencerTONY 🎥 New videos every Tuesday! (@InfluencerTony) May 21, 2018
A2. Finish the edits. Hoping to sort out some kind of "chronological" order for the stories so they build upon one another. #GoalChat

— Jon Duckworth (@Duck_n_Pulpit) May 21, 2018
A2) To make better use of the good weather by getting out more; delete old emails #GoalChat

— AndromedaTrance (@andromedatrance) May 21, 2018
A2. Still need to write the outline for my June presentation and conduct some information interviews. #goalchat

— Danny Kambel (@DannyKambel) May 21, 2018
A2 Client work, social media calendar for June, finalize a challenge I want to do #GoalChat @GoalChat

— Marisa Cali (@allthesocial) May 21, 2018
Special Topic: Business Development
Special Topic: Business Development @WriteOnOnline @TheDEBMethod Ready? #goalchat

— ⭐ #GoalChat ⭐ (@GoalChat) May 21, 2018
Finding New Prospects and Clients
Q3. How do you find new prospects and clients? @WriteOnOnline @TheDEBMethod #GoalChat pic.twitter.com/2E2YbPPZXB

— ⭐ #GoalChat ⭐ (@GoalChat) May 21, 2018
A3. I get most of my goal coaching clients through referrals. Either that or it's someone I met a while back who reaches out when they need my help completing a project! #GoalChat

— ⭐ #GoalChat ⭐ (@GoalChat) May 21, 2018
A3 I connect with new people and talk about what I do. I can decipher pretty early on if they are going to be in my IC bucket or if they are time-suckers #GoalChat

— Marisa Cali (@allthesocial) May 21, 2018
A2) Mostly it's word of mouth. The newsletter list keeps growing, so that must be getting passed around. #GoalChat

— Tom Reid (@_TomGReid) May 21, 2018
A3. I don't seek out prospects and clients. I'm fortunate that people have continued to seek my input/my advice either by my longevity in my profession or thru social media conversations or my role as the @CoSIDAnews Job Seekers Committee Chairperson. #goalchat

— Danny Kambel (@DannyKambel) May 21, 2018
A3. Working on that via marketing. #GoalChat

— April (@aprilemaye) May 21, 2018
Working on a strategy now. Have been off and on but now I'm more focused and I'm refining it. #GoalChat

— April (@aprilemaye) May 21, 2018
That's fantastic. Better to take time to plan it out than scramble! #goalchat

— ⭐ #GoalChat ⭐ (@GoalChat) May 21, 2018
I know I can stand to be more organized. One of the reasons that I've joined this chat. #GoalChat

— Danny Kambel (@DannyKambel) May 21, 2018
Q3b. What's your best "met a client this way" story? #goalchat

— ⭐ #GoalChat ⭐ (@GoalChat) May 21, 2018
I met my most recent book coaching client at an event I spoke at in 2015. We started working together last month. #goalchat

— ⭐ #GoalChat ⭐ (@GoalChat) May 21, 2018
A3b. I've been fortunate to meet many great colleagues but one of my longest standing social media friendship is someone I met on a flight. She runs a moving company and has been a great resource in that area in job transition. #GoalChat

— Danny Kambel (@DannyKambel) May 21, 2018
A3) in my line of work, I tend to join the new company when the current firm loses the contract! #GoalChat

— AndromedaTrance (@andromedatrance) May 21, 2018
Types of Content
Q4. What types of content do you create to promote your business/expertise? @WriteOnOnline @TheDEBMethod #GoalChat pic.twitter.com/vi1OR4a2sX

— ⭐ #GoalChat ⭐ (@GoalChat) May 21, 2018
Q4. What types of content do you create to promote your business/expertise? @WriteOnOnline @TheDEBMethod #GoalChat pic.twitter.com/vi1OR4a2sX

— ⭐ #GoalChat ⭐ (@GoalChat) May 21, 2018
A4. I am a huge fan of blogging. Plus I have an active FB group (https://t.co/D38rtwcgnM) and page (https://t.co/BKv5f2Aw0h). I like doing spontaneous videos, but want to create more. Oh, and now I also have #GoalChat @WriteOnOnline @TheDEBMethod

— ⭐ #GoalChat ⭐ (@GoalChat) May 21, 2018
A4. I've started to integrate more visual media into my messaging. Examples ⤵ #GoalChat pic.twitter.com/mu1S8SZj0G

— Danny Kambel (@DannyKambel) May 21, 2018
A4. Sharing writing advice & tips through tweets. Plan to post short stories to my blog site. #GoalChat

— Jon Duckworth (@Duck_n_Pulpit) May 21, 2018
A4) The newsletter about every two weeks and a regular blog post. Want to get back to video, but all in good time. #goalchat

— Tom Reid (@_TomGReid) May 21, 2018
Also good news, my new VA got all the blogs reposted to Medium, got one staged for #MondayBlogs, and should have one reposted to LinkedIn this week. #GoalChat

— Tom Reid (@_TomGReid) May 21, 2018
A4 All the content types… Blogs, videos, quick videos for LinkedIn, tweets, long-form posts, podcasts, pinterest boards but my favorite to create VISUAL content like this👇 #GoalChat pic.twitter.com/5F6GHa8nj2

— Marisa Cali (@allthesocial) May 21, 2018
Hi Danny, thanks for asking. I use a variety of tools mostly @AdobeSpark. I use my mobile phone to create native videos for LinkedIn and to edit in music/filters. #GoalChat What tools do you use?

— Marisa Cali (@allthesocial) May 21, 2018
Looks cool! Can you have branded images in there? I don't have iPad/iPhone otherwise I'd try it out… I like following a specific theme/colors in my visual media. 🙂

Photoshop is when I want to create something to print too.. Love that app! #GoalChat

— Marisa Cali (@allthesocial) May 21, 2018
Tom: I'm a novice. However, if I can help don't hesitate to ask. #GoalChat

— Danny Kambel (@DannyKambel) May 21, 2018
Feel free to explore my web properties all gateway'd at https://t.co/PL7SPKc3ut. YouTube link is at bottom right. Just trying to do similar stuff and also webinar excerpts. #goalchat

— Tom Reid (@_TomGReid) May 21, 2018
I'll check it out once I'm done recording this new podcast episode 🙂 Talk with you soon! #GoalChat

— Marisa Cali (@allthesocial) May 21, 2018
A4: currently working on a possible podcast and youtube. #GoalChat

— April (@aprilemaye) May 21, 2018
Podcast? Wow! I am a HUGE proponent/addict of Podcasts AND I am listening to episode #8 of yours right now! Would love to see you revive it! (maybe a GOAL?? 😋)

Also, sorry I missed the chat yesterday! My job is reactive and I had to react during the chat. #goalchat

— Dan MacDougall (@Dan_MacDougallx) May 22, 2018
Tips for Business Development
Q5. What tips do you have for business development? @WriteOnOnline @TheDEBMethod #GoalChat pic.twitter.com/QZaf33neGU

— ⭐ #GoalChat ⭐ (@GoalChat) May 21, 2018
A5. You never know where your next lead may originate, so connect with everyone you meet. Be out there, be helpful, but don't be too salesy. Relationship development is long-term. #GoalChat

— ⭐ #GoalChat ⭐ (@GoalChat) May 21, 2018
A5. Accountability and responsibility. Listen and learn. #GoalChat

— Danny Kambel (@DannyKambel) May 21, 2018
A5. Know your niche. Become an expert. Know your clients. Ask questions. #GoalChat

— Jon Duckworth (@Duck_n_Pulpit) May 21, 2018
Q5: stay true to your vision! #GoalChat

— April (@aprilemaye) May 21, 2018
A5) I may not be the best one to ask. I rely too much on my experience and reputation to generate WOM marketing. #goalchat. Probably time to be rethinking that approach.

— Tom Reid (@_TomGReid) May 21, 2018
Next Week
The next #GoalChat will be on 5/27. Topic is #YouTube. Bonus assignment. Plan to tweet a video introducing yourself to the group on next week's chat. #GoalChat pic.twitter.com/k48BmLCdUe

— ⭐ #GoalChat ⭐ (@GoalChat) May 21, 2018
You can also tweet topic suggestions to #GoalChat Working on the June schedule, so let me know what you want to discuss.

— ⭐ #GoalChat ⭐ (@GoalChat) May 21, 2018
Thanks for another great chat! Please connect with @WriteOnOnline on Facebook: Page https://t.co/tfJqJJxJW3 and Group https://t.co/D0VhQ2Dlop. You can also connect with @TheDEBMethod https://t.co/Z1ukMAkCgL and https://t.co/qTcYgcK5It Have a fab week! #GoalChat

— ⭐ #GoalChat ⭐ (@GoalChat) May 21, 2018
Tags:
#GoalChat
Business Development
Twitter