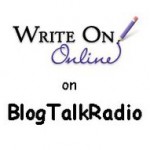 Thanks Dr. Jenny Yip, author of Productive, Successful YOU! for joining us for the September virtual meeting on BlogTalkRadio. This month's topic is avoiding procrastination.
Some of Jenny's insights from the show:
• Everyone has challenges when it comes to procrastination – whether it's work, chores. We have limited time in a day. You may feel like it's procrastination, but you may just be busy.
• If you put something off because you don't feel well, that's self -care. If you put something off because you feel like you're head is not in the right space, that's not a good enough reason to procrastinate.
• There's a difference to being a disciplined writer and an amazing writer. The goal is to make disciplined writing second nature – you build neural pathways. Then you can develop your craft and become an amazing writer.
* * *
Listen to our entire conversation:
* * *
September 17: September Write On!/Guided Goals Hangout at Capital One 360 – Los Angeles Café, 11175 Santa Monica Blvd, Los Angeles. Swing by the cafe for coffee and conversation. RSVP on Facebook. (Parking is free in the building. Space is now limited to 6 cafe spots, so get there early. There is also metered parking nearby.) Love the Café? Write a  review on Yelp!
Post your October Goals on Write On Online or Facebook and be entered in a drawing to win a book from Michael Wiese Productions.
Write on!
Tags:
Dr Jenny Yip
Procrastination
Write On! Meeting
Writing