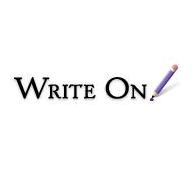 Missed the February meeting? Read the recap.
Post your February Goals on Write On Online or Facebook and be entered in a drawing to win a book from Michael Wiese Productions.
FEBRUARY CONTEST: Win With Write On: Focus in February. Pick a project – either something you already started or on a new idea. Then, complete it and report back. To help focus your time, I recommend scheduling an hour or two appointment on your calendar each week, and work (without distractions) to get it done! Details and project-suggestions here.
* * *
Is your 2017 goal to start or reboot your blog? Check out my latest book: Write On Blogging: 51 Tips to Create, Write & Promote Your Blog. And listen to my interview on Carrie Dils' OfficeHours.fm podcast. #WriteOn
* * *
Upcoming Events
February 9: Beyond Words Panel of Writers Guild-Nominated Screenwriters, presented by the WGA, West and the Writers Guild Foundation (WGF) in partnership with Variety, at the WGA Theater in Beverly Hills. Confirmed screenwriters scheduled to appear include Damien Chazelle (La La Land), Tom Ford (Nocturnal Animals),Eric Heisserer (Arrival), Barry Jenkins (Moonlight), Kenneth Lonergan (Manchester by the Sea), Jeff Nichols (Loving), Rhett Reese & Paul Wernick (Deadpool), Allison Schroeder and Theodore Melfi (Hidden Figures), and Taylor Sheridan (Hell or High Water). Moderated by Writers Guild Award and Oscar-nominated screenwriter Andrea Berloff.
February 14: Deadline to enter the Winter We Said Go Travel Writing Contest. Theme is "How travel has changed your life." Details here.
February 15: PALA (the Publishers Association of Los Angeles) presents How to Blog Better, Monetize Your Blog, and Sell More Books in Culver City at the Veterans Memorial Building, Culver & Overland. See the website for more info. Members free; others $15.
February 16: Mar Vista Chamber of Commerce Coffee Time: February Fresh Start: Tips to Set & Achieve Goals in 2017 at 8am at Coffee Connection. Details and RSVP on Meetup.
February 16: How to Break into the Screenwriting Business: a four week course by Michele Wallerstein via Screenwriters University begins.
February 21: Social Media Club LA Panel "You Made this? I Made This. Copyright and Social Media" at General Assembly in Santa Monica.
February 25: 2017 Pre-Oscar Panel with Michael Wiese Productions starting at 2pm at The Writers Store in Burbank. The panel will be moderated by Matt Lohr (author of Dan O'Bannon's Guide to Screenplay Structure), and panelists include authors Kim Adelman (Making it Big in Shorts), Pamela Jaye Smith (Romantic Comedies), Simone Bartesaghi (The Director's Six Senses), and John Bucher (Master of the Cinematic Universe). Get details and reserve your spot.
March 1: March LA Hangout in West LA. RSVP on Facebook.
March 22 – 24: Social Media Marketing World in San Diego. Learn more and get tickets.
Ongoing: Female Authors wanted for interviews on the #SheWroteABook podcast with Lena Anani. If interested, please inquire at http://SheWroteABook.com/Guest and please allow up to 24 hours for a response.
Plus
Author Q&As are back on Thursdays on Write On Online. Do you have a new book or an upcoming book release? Want to be featured on Write On Online? For consideration submit your info or email deckerling@gmail.com with your book and website links, as well as your short bio.
Check out the Guided Goals Podcast on Write On's companion site GuidedGoals.com. The podcast is a series of expert interviews, designed to help people pursue their passion projects. Each episode wraps with action items (recommended goals), so listeners can take what they heard, and move forward right away. Watch on YouTube, listen, and subscribe on iTunes, or listen on Stitcher. Season two is starting soon.
Do your kids love to write? Want to encourage them to hone and expand their writing skills? Check out Purple Pencil Adventures: Writing Prompts for Kids of All Ages.  Although it's geared towards kids, there are plenty of prompts adults can use to exercise those writing muscles! Write on!
* * *
Writers, please email me if you have a 2-3 line news item or event and/or if you are are interested in contributing a Write On! Review or Expert Column. Write On!
Tags:
Contest
Events
Goals
Los Angeles
Write On! Wednesday
Writing