Playwright Gabe McKinley's Extinction is a darkly funny drama, starring James Roday (Psych) and Michael Weston (House), about male bonding and how relationships—and expectations—change throughout the years. The play is presented by Red Dog Squadron, and runs Fridays, Saturdays, and Sundays, through December 13 at Elephant Space, 6322 Santa Monica Blvd. in Hollywood.
McKinley's other plays include The Kitchen Sink Play, Welcome Home Rock Rogers, and Floodplains. His short play The Grave was the winner of the Samuel French Off Off Broadway Short Play Festival and is published by Samuel French. McKinley speaks with Write On! about how he went from actor to playwright, the craft of writing plays, and more.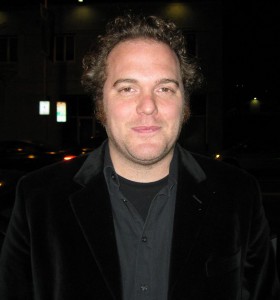 Have you always wanted to write plays? What is it about the medium that appeals to you?
I started as an actor, and like many actors I found myself not being satisfied with many of the plays I was working on. I distinctly remember, while I was studying at NYU's Classical Studio, I'd look at a play like Hamlet and think, "I can do better." In all seriousness though, I found myself writing small plays and sketches for my actor friends and that led me away from acting and toward dramatic writing. I'm from a family of writers, so the switch was something that didn't surprise those who knew me. As for play writing as a medium, it is unique from other forms, because it relies almost exclusively on the spoken word and the interaction between (hopefully!) emotionally and psychologically fully realized characters … the visual, while important, is secondary.
How did the idea for Extinction come about?
I decided I wanted to write a play about male friendships in transition. I had recently been to Atlantic City for a bachelor party, and I was fascinated by the way men act when away from prying eyes, so I decided to set the play in AC.
How much of Extinction was based on real-life experiences?
Other than the location, nothing else was based on real-life experiences. That being said, these characters are compilation of many men I know … and of course, myself.
What was your writing process for it?
I wrote the initial draft of Extinction over the summer before my final year of grad school at The New School for Drama; it was my thesis play for my MFA. From that initial draft I worked on the play with the help of the wonderful playwright and teacher Christopher Shinn. The play has grown from a one-act to a full-length in the last six months.
How did Extinction come to Red Dog Squadron?
James Roday and Brad Raider, the artistic directors, are friends from our NYU days. James has always been supportive of my writing and was looking for a new play and asked if I had anything. I gave him Extinction. Always remember your friends.
What's next?
I have a couple of plays ready for production. I am writing a film and developing a TV show. I am hoping to have a couple shows produced next year in New York.
How do you go about capturing the male experience so vividly and on target?
I think all good writing is honest writing. I just tried to put aside everything else and write one honest thing after another.
Plays are very dialogue and emotion intensive, what advice do you have for writing good dialogue?
Well, again, honesty is the key. An ear for dialogue is an elusive thing, but the advice I would give is to listen to everybody all the time … eavesdropping is part of the profession. Also, make sure your characters are listening to each other at all times.
Additional advice for writers?
I remember reading a John Guare quote about never getting a job … I love that advice, although in this economy it's moot. I think that writing is a discipline and requires many sacrifices, both emotionally and social time wise. Writers write….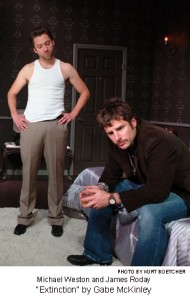 Tags:
Author Q&A
Brad Raider
Christopher Shinn
Debra Eckerling
Extinction
Gabe McKinley
Hollywood
House
James Roday
Michael Weston
NYU
Play
Playwright
Psych
Red Dog Squadron
Samuel French
Samuel French Off Off Broadway Short Play Festival
The New School for Drama
Write On!