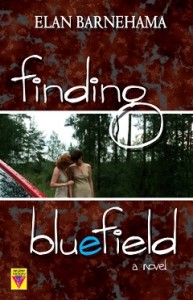 Elan Barnehama is the author of Finding Bluefield. Spanning the years 1960-1983, Finding Bluefield chronicles the lives of two women who, by seeking a child and family, find themselves navigating unknown and dangerous territory during a pivotal time in U.S. history.
Barnehama has taught writing and literature at several colleges, led community based writing workshops, been a high school teacher and varsity baseball coach, a radio news announcer, a speech writer for a university president, and a cook. His commentaries and essays have appeared on public radio, online, and in newspapers.
What was your favorite part of writing Finding Bluefield? The greatest challenge?
I enjoyed dropping my characters into the 1960's, a loud, idealistic, and divisive period with a lot of good music and free love. Outrageous was the norm for a counter-culture that approached activism as theater and turned personal statements into political manifestos. As the nation shook off the sleepy 50's, it found JFK in the White House inspiring hope and symbolizing a generational shift in power. But then there were all those assassinations, the Vietnam War, our cities on fire, and a turbulent civil rights movement. It didn't take long for the U.S. to find itself in one serious identity crisis.
And the having my characters within arm's length of some of those great moments was also the greatest challenge, since I wanted those events to be a supporting cast and not compete with the main characters. I wanted the novel to be Barbara and Nicky's personal and not political story.
What inspired you to write this novel?
While working on the first draft of Finding Bluefield, I remembered reading a number of articles citing cases where courts used existing laws to justify removing children from gay and lesbian parents. In some cases in the 1950s and '60s, courts gave custody of children to fathers in divorces where the mother was "rumored" or confirmed to be a lesbian, in stark contrast to the almost universal approach, at the time, of granting custody to mothers.
What was your process for writing Finding Bluefield? Getting it published?
Writing the novel turned out to be easier than getting it published. First there was the wrong agent who wasted my time. Then there was the well-meaning small press who took the novel but ended up shutting down due to the publisher's medical issues and the economy. There was a lesbian press that was interested in the novel until they found out I was a straight male.
But then I found a wonderful home for Finding Bluefield with Bold Strokes Books, which "offers a diverse collection of Lesbian, Gay, Bisexual, Transgender, and Queer fiction." Their focus is on the story and not the author. They were happy to read the novel and they've been wonderful to work with.
Why did you decide to make your main character female? Do you recommend writers try writing the opposite gender?
When I set out to write my novel, Finding Bluefield, I didn't expect my main character to be a female, much less for her to fall in love with another woman. But there I was, a straight man hooked by these two characters, Nicky and Barbara, and their voices, and their story.
The thing is, most novels have male and female characters, they have characters of various races and nationalities. So we're always writing about folks who are different than us. So I wouldn't say that I recommend having one's main character be the opposite gender, but I certainly wouldn't recommend against it.
In what ways does article writing help with your fiction? And vice versa?
The thing about writing for other people—whatever the assignment—is that you don't have the luxury of staring at the blank screen. You just start writing. And that's a good habit. You also have to grab the reader right away and keep them engaged. These are all things you want to do in fiction too, but you have less time to accomplish this in an essay or article.
For me, fiction is about letting the reader make connections and this has improved my articles in that I have gotten better at presenting ideas and letting readers make their own connections.
Additional advice for fiction writers?
Humans are storytellers by nature and by necessity. As soon as we're born, we are told stories. As soon as we can speak, we start to tell stories to anyone who will listen. We need to tell stories to place ourselves in the world. We listen to stories to understand how others place themselves in the world. There's no limit to how we can tell a story. And when we spend time with the written word, we are connected to one another. When we read, we are never alone.
And revise, revise, revise. Get some beta readers. And revise some more.
What do you know now that you wish you knew before you started writing?
Actually, I wish I knew more than I know right now. And I also wish I knew everything I know now, then.
But, I guess I have gotten a lot better at trusting the process, at trusting my characters to find the story. Because, the story I set out to write is not the story I end up writing. And I've learned to let the real story happen.
Tags:
Author Q&A
Elan Barnehama
Fiction
Finding Bluefield
Novel
Writing